New Headphones Designed Specifically for Top DJs & Remix Producers
Pioneer Electronics (USA) Inc.'s Professional Sound and Visual Division, the leader in ProDJ products and the innovator of the CDJ and DVJ turntables, today unveiled the new reference model, HDJ-2000, the latest addition to its popular, professional DJ headphone series.
The development of the Pioneer HDJ-2000 stems from numerous requests from top DJs around the world desiring headphones with:
Exceptional high-quality sound that clearly and accurately reproduces audio
Comfortable fit to minimize fatigue from long periods of use
High durability that withstands demanding conditions and touring
"Our engineers put great care and thought into every aspect of our product line; from our scratch emulation technology to headphone features, we place a strong emphasis on design, sound quality, and overall performance." said Matt Dever, vice president of Pioneer's Professional Sound and Visual Division. "These new headphones are a testament to our dedication to elevating the user and artist experience."
Accurate Sound Quality
The headphone is uniquely designed to improve sound quality and reliability–perfect for use in DJ environments and studios.
Thick 35 m Polyethylene Terephthalate (PET) diaphragm improves rigidity and strength needed for better lower frequency response.
PET material used in the diaphragm also helps to dampen unwanted resonance.
Wide frequency response with high clarity and detail results from a large 50mm driver, ideal for all types of music.
Additionally, the headphones have an enclosed "over-ear" design with ear pads that seal around the user's ears, reducing ambient noise and providing superior sound isolation for tracking in a loud club environment or a studio. The ear pad's unique material, memory foam (Polyurethane foam), provides a tight yet comfortable seal, further enhancing sound reproduction especially in the mid to high frequency ranges.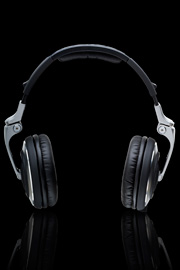 Maximum Comfort for Extended Wear
The HDJ-2000's lightweight construction and soft comfortable ear pads are ideal for long listening/recording sessions and reduce the well-known phenomenon of "headphone fatigue." The headphones feature:
"Protein Leather"1 Wrapped Pads – provide durability while making long use of the headphones more comfortable.
Low-rebound memory foam2 – used inside the ear pads and head pad, contouring to the shape of the head and maintaining a snug fit.
Magnesium alloy components – used in the main body components to achieve both a lightweight and durable design to minimize stress on the user's head and ensure comfortable DJ play.
Sturdy, Stylish Design and Construction
The HDJ-2000 employs a Mini XLR connection to join the main body with the nearly ten feet of cable to achieve both a quality "sound" connection and easy replacement. With a new i-type hinge, a smooth and integral form has been achieved that naturally fits the hands at any time during DJ performance. The headphone's ear pads have a spun finish aluminum ring that matches the design of Pioneer's CDJ players' "play/cue" buttons for a cohesive stylish design.
Other Features:
Folding Structure: The headphones fold into a compact configuration for portability and storage.
Swivel Mechanism: The ear cups turn 90 degrees for more convenient single-ear or on-shoulder monitoring use. A torsion system returns the ear-cup to its normal position after each use.
Click Mechanism: Ear cups and hinges gently click into place to prevent inadvertent rotation or folding of the headphones during use.
Mono/Stereo Switch: Combines the audio signal for single-ear monitoring.
Carrying Bag: A soft pouch is included to protect the headphones when not in use.
The HDJ-2000 will be available in December 2008 with a manufacturer suggested retail price of $450.
Specifications:
Type:
Tightly closed dynamic stereo headphones
Frequency range:
5Hz – 30kHz
Impedance:
36 ohms
Maximum input:
3,500mW
Output sound level:
107dB/m
Unit type:
50mm dome
Plug:
3.5mm 3P mini plus (Gold-plated, Screw-type)
Weight:
290g / 10.23 ounces (excluding cord)
Included accessories:
6.3mm 3P plug adapter (Gold-plated, Screw-type)
Carrying bag
Connection cord:
1.2m long single coiled cable (about 3m when straight)
1 Protein Leather: Synthetic leather developed jointly by Idemitsu Technofine Co., Ltd. and Komatsu Seiren Co., Ltd.
2 Low rebound memory foam: Polyurethane foam that slowly moulds itself to a shape and recovers to its original profile.