Optio T10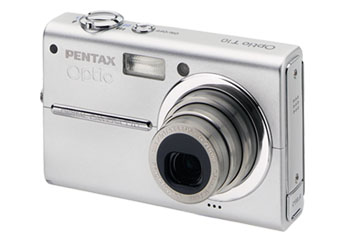 PENTAX Imaging Company announced three compact digital cameras in time for the Photo Marketing Association annual trade show opening Sunday, February 26, 2006, in Orlando.
The PENTAX Optio T10 offers an impressive 3.0 inch LCD touch-display for trouble-free operation. Featuring 6.0 megapixels and a 3X zoom, the Optio T10 is slim and stylish, offers finger and stylus touch control, and allows users to decorate images with drawings, stamps, and picture frames. The camera will be available for $349.95 in March 2006.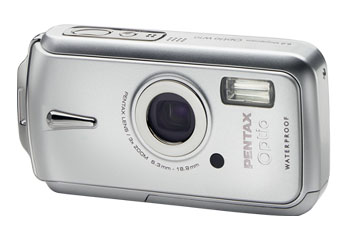 Optio W10
The PENTAX Optio W10 sets the latest PENTAX standard for waterproof digital with 6.0 megapixels and a reflection-free LCD that offers optimal viewing in outdoor settings. The Optio W10 will ship in March for under $300.00. Third in the PENTAX waterproof digital line-up, the Optio W10 features JIS Class 8 Waterproof and JIS Class 5 dustproof ratings. PENTAX unveiled the microsite http://www.h20camera.com earlier this year for "W" series buyers to learn more about the camera's capabilities, purchase accessories and provide product feedback about the camera's performance.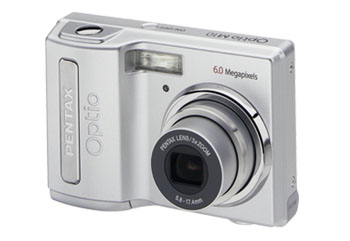 Optio M10
With a 2.5 inch monitor, 6.0 megapixels and a 3X optical zoom, the affordable PENTAX M10 also will be featured at PMA 2006 and will ship in March 2006 for $229.95.
All three models reflect a new naming system for PENTAX cameras based on a letter and model number description rather than the number of megapixels. The Optio T series, for example, designates the touch-screen series, Optio W indicates the waterproof series, and Optio M indicates a mid-range series.
"Our aim with the new naming system is to make it easier for customers to understand our product line, from entry to high-end and allows much more flexibility in expanding our product line as we move forward with these camera lines," said Ned Bunnell, director or marketing, PENTAX Imaging Company.
The naming system was unveiled earlier this year at the Consumer Electronics Show with the introduction of the entry-level Optio E10 and the advanced 8.0 megapixel PENTAX Optio A10. The PENTAX Optio A10 is one of only two digital imaging devices in the world to feature DivX, a fully Certified Encoder device that captures full-screen VGA (640 x 480, 30 fps) video. Equipped with DivX, the Optio A10 camera allows users to capture, create, play and share high-quality video content across a range of other DivX equipped devices and platforms such as DVD players, recorders and portable media players. The popular PENTAX Optio S6 also features DivX.
In addition, the previously announced PENTAX AF-540FGZ auto flash unit is scheduled to ship in April 2006. This clip-on, twist/tilt, auto-zoom flash provides a variety of advanced flash applications, including P-TTL auto flash, high-speed synchronization and wireless P-TTL auto flash, when mounted on a PENTAX digital SLR camera. The unit features a large guide number of 54 (at ISO100/m). The announcement also follows earlier action by PENTAX to lower the price of the *ist DL digital SLR camera kit with 18-55 lens to under $600 US.
PENTAX Imaging Company is an innovative leader in the production of digital cameras, lenses, binoculars, eyepieces, mobile printers, scanners and Internet cameras. For more than 80 years, PENTAX technology has developed durable, reliable products that meet the needs of consumers and businesses. With headquarters in Golden, Colorado, PENTAX Imaging Company is a division of PENTAX of America, Inc.