The episode will air on CBS at 11a.m. on Thursday, April 2.
Paradigm Electronics Inc., an international leader in speaker design and manufacturing will enter a new realm of popular culture when its Cinema 90 CT (Compact Theater) 5.1 surround audio system will be featured on CBS's The Price is Right on Thursday, April 2nd at 11a.m. Eastern time.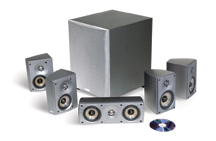 The Cinema 90 CT system will be included in one of the initial "One-bid" pricing games that qualifies contestants to go on stage and ultimately earn a chance at bidding in the Showcase Showdown.
"When an opportunity to work with an institution like The Price is Right comes along, you stop what you're doing and listen," said Mark Aling, Paradigm's Marketing Manager. "The show has been entertaining daytime TV viewers for almost 65 years with engaging games like 'Plinko' and 'Cliffhanger' so we're really looking forward to April 2nd. Please don't forget to spay and/or neuter your pets."
About Paradigm
Innovative design, advanced materials, in-house manufacturing and state-of-the-art engineering have made Paradigm an international leader in speaker design. With more than 250 industry awards for audio excellence and numerous rave reviews from around the world, Paradigm is committed to staying at the leading edge of speaker technology, consistently achieving the ultimate in sound for music and home theater.