Pandigital Follows Up Award-Winning PhotoLink Scanner with Two New Models For Digitizing Print Photos, Negatives and Slides
Pandigital today launched its second-generation PhotoLink One-Touch Print Scanner and the new PhotoLink Slide & Negative Scanner.
Pandigital is the number one provider of digital photo frames in North America with more than 20 percent market share for 2008, according to Parks Associates' report, "Digital Photo Frames: 2009 Annual Global Market Analysis and Forecast."
"While the bulk of today's photos are taken by digital cameras, there are still millions of print photos in boxes, bags and photo albums that deserve to be digitized and preserved for the future," said Dean Finnegan, CEO, Pandigital. "The PhotoLink Print Scanner is literally the easiest way possible to turn print photos into digital images. Plus, with the new PhotoLink Slide & Negative Scanner, customers can finally enjoy and preserve the precious family memories shared on these older formats that are cumbersome to handle and view."
The first-generation PhotoLink One-Touch Print Scanner (PANSCN01) was named as a Digital Imaging Marketing Association 2009 Innovative Digital Product at this year's Photo Marketing Association Show. The new Pandigital PhotoLink One-Touch Scanner (PANSCN02) builds on the features of the award-winning first-generation product with enhancements in the scanning and feed mechanisms for improved digital images.
PhotoLink One-Touch Print Scanner Makes Scanning Easy
The new Pandigital PhotoLink One-Touch Scanner (PANSCN02) helps customers save their favorite memories by allowing customers to scan all their print photos and enjoy them immediately on a PC or digital photo frame in amazing, high-resolution 1800×1200 pixels and 300dpi clarity. The one-touch scanner simply requires customers to insert the photo into the feed and push the button to begin scanning.
With the Photolink One-Touch Print Scanner, customers can scan images to the most popular memory cards (SD/MS/MS-Pro/MMC/XD) from print photos ranging from wallet-sized up to 4×6 inches in ultra-high resolution. Plus, the PhotoLink Scanner can be used right out of the box. There is no software required, and the scanner even comes with a 512MB SD Card to store the photos. In addition, consumers can also use the USB cable included with the product to connect the Photolink One-Touch Scanner via its USB 2.0 port directly to a computer.
The device is incredibly portable, weighing only eight ounces and measuring only 6.15W x 1.8H x 1.5D inches. As a result, it's easy to take it anywhere to scan and share photos with friends and loved ones.
PhotoLink Slide & Negative Scanner Makes Old Images New Again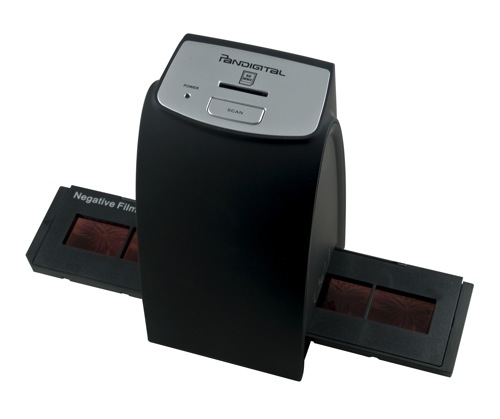 The Pandigital Photolink Slide & Negative Scanner (PANSCN03) allows users to create digital copies of their old slides and negatives. Like the PhotoLink Print Scanner, the Slide & Negative Scanner lets customers enjoy digital images by placing the slide/negative into the device and pushing a single button so that they can be scanned and transferred to either a PC or directly to an SD card for instant viewing on any digital photo frame, PC, or other device that reads SD cards. Photos can be connected to a PC via the PhotoLink Scanner's USB 2.0 port and cable.
The PhotoLink Slide & Negative Scanner scans images at 5.1 megapixel quality and has automatic and manual color balancing and exposure control options to allow the customer to select optimum image quality and preview the color image when scanning, unlike other slide and negative scanners that typically only allow previews of the negative image.
Product Availability and Pricing
The PhotoLink One-Touch Print Scanner (PANSCN02) has a manufacturer's suggested retail price of $129.99. The PhotoLink Slide & Negative Scanner (PANSCN03) has an MSRP of $99.99. The PANSCN02 and the PANSCN03 are available now at various retail locations.
About Pandigital
Privately held, Pandigital develops and markets digital entertainment products. The company recognises the growing digital lifestyle market in the U.S. and Europe, as well as the convergence of media such as MP3, digital photos and digital video, and therefore delivers high quality products to the consumer market that provide the latest in technology combined with contemporary style, and simplified user interfaces. Pandigital is headquartered in Dublin, Calif.