Panasonic today announced two new bluetooth powered Link To Cell phone systems, which enable users to make and receive cell phone calls using Panasonic telephone handsets placed conveniently around the home. Both models are equipped with Panasonic's new adjustable Tone Equalizer, which allows users to customize the tone of incoming calls to maximize clarity or accommodate for mild to moderate hearing loss. The top-of-the-line model KX-TG7642 even features power back-up operation and an integrated range-boosting antenna.
To make and receive cell phone calls using Panasonic's Link To Cell, consumers simply place the base unit wherever cell reception is strongest and then pair up to two Bluetooth enabled cell phones to the system. Once paired, cell phone calls will ring on all compatible Panasonic handsets throughout the home, ensuring that important calls will not be missed. The system works with or without landline telephone service. Additionally, since Link To Cell is compatible with Bluetooth ear pieces and headsets, users can transfer up to 600 entries from their cell phone address book to the system with the touch of a button; and those who prefer to differentiate cell phone calls from landline calls have the option to program their mobile ring tone to their phone system.
Power back-up operation and longer range
The full-featured model KX-TG7642M incorporates a built-in antenna on the base unit that extends the transmission range of the phone by up to 20% compared to Panasonic's 2010 cordless telephones. Previously available only as a stand-alone module that was sold separately, the internal range booster enables users to walk further from the base unit without the risk of dropping calls. Additionally, unlike most cordless phones which stop working when there is a power outage, the KX-TG7642M handset batteries will power the base unit for up to 13 hours when the electricity fails. Consumers have peace of mind knowing they will still be able to get help and stay in touch with loved ones by making and receiving landline and cell calls from the Link To Cell handsets if there is a blackout.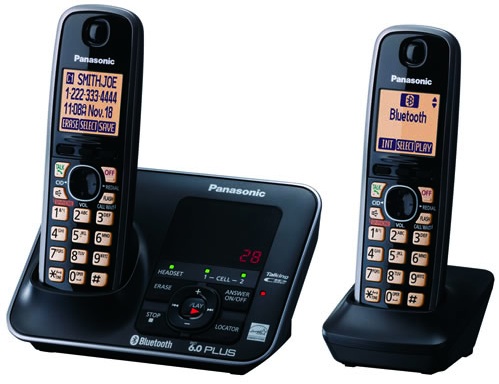 Adjustable Tone Equalizer for optimal sound clarity
Both the KX-TG7642M and KX-TG7622B Link To Cell systems offer an adjustable Tone Equalizer to accommodate hearing loss. Depending on their particular hearing loss frequencies, users may boost bass, mid-range, or treble tones, making callers' voices easier to understand.
The KX-TG7642M and KX-TG7622B Link To Cell systems have the following exclusive features:
Proprietary DECT 6.0 Plus technology for high quality sound and extended range.
Intelligent Eco Mode — Automatically lowers the power consumption when using the handset close to the base unit.
Talking Caller ID — Announces Caller ID information in between rings so users don't have to stop what they are doing to answer unwanted calls.
Silent Mode — Program any handset, such as a bedside phone, not to ring during specified hours.
Non-slip Handset — A rubberized grip makes it easy to cradle the phone.
Price and Availability
Both Link To Cell models are now available at retail. The telephones are expandable to up to six handsets; additional handsets can be purchased for $19.95 each.