Panasonic today announced a full roster of Full-High Definition (HD) camcorders to its 2011 line. The seven new easy-to-use camcorders, HDC-SD40, HDC-TM40, HDC-HS80, HDC-TM80, HDC-SD80, HDC-TM90 and HDC-SD90, all have a 1MOS sensor with 1920 x 1080 resolution feature wide-angle lenses. The Panasonic HDC-SD90 and HDC-TM90 are capable of shooting full-HD video with 1080/60p recording and can even record 3D video with the optional Panasonic 3D Conversion lens (VW-CLT1).
Leading off the line of 1MOS camcorders are the Panasonic HDC-TM90 and HDC-SD90, featuring a compact body and the ability to record video in 3D with the addition of Panasonic's 3D Conversion Lens. Once recorded, consumers can play back the 3D images or video on a VIERA 3DTV, a compatible 3D TV, or through an AVCHD-compatible player/recorder, such as Panasonic's Blu-ray Disc player. While 3D video recording is possible, the Panasonic HDC-TM90 and HDC-SD90 also record crisp true-to-life video in full-HD 2D video. The camcorders feature a 28mm wide-angle lens with versatility to record indoors or in tight spaces, while at the same time capturing stunning images of wide landscapes or large groups into the frame.
For extra shooting power, the Panasonic HDC-TM90 and HDC-SD90 feature ultra-telephoto 40x Intelligent Zoom which uses Panasonic's Crystal Engine PRO, a high-resolution processor that helps to record extremely clear, crisp videos even in low-lighting. Also powered by the Crystal Engine Pro, the HDC-TM80 and HDC-HS80 offer exceptional zooming power with ultra-telephoto 42x Intelligent Zoom. The new models include a 33.7mm wide-angle lens for versatile shooting at a variety of distances.
For consumers wanting a lightweight and affordable Full-HD camcorder, Panasonic introduces the ultra-compact HDC-TM40 and HDC-SD40. The TM40 and SD40 are the Panasonic's lightest full-HD camcorders, weighing approximately 0.39lb, making them stylish and easy to carry around for any recording moment. The camcorders are also extremely low-power consuming Full-HD camcorders, capable of continuous recording up to 135 minutes without needing to charge the battery.
All seven models can record to SDXC/SDHC/SD Memory Cards, while the HDC-TM90 and HDC-TM80 and HDC-TM50 also have 16GB of internal memory and the HDC-HS80 has a 120GB hard disk drive for additional memory storage.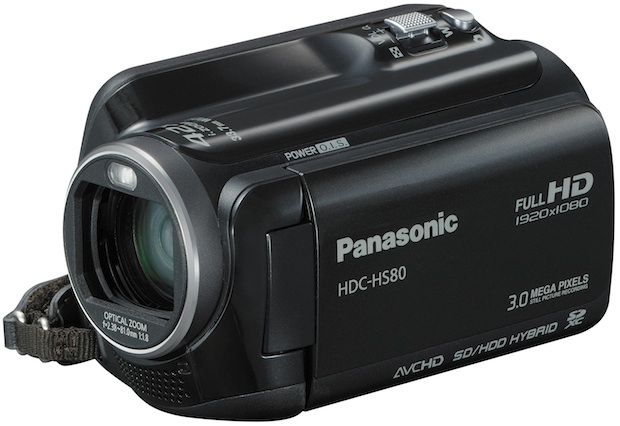 The Panasonic HDC-TM90, HDC-SD90, HDC-TM80, HDC-SD80 and HDC-HS80 also feature advanced touch-screen operation with new touch-operation functions that allows for extremely smooth shooting and playback, including:
Touch Zoom — Swiftly zoom in or out with the touch or swipe of the finger.
Touch Shutter — Focus and take a digital photo by touching the subject on the screen.
Other features of the Panasonic HDC-TM90, HDC-SD90, HDC-TM80, HDC-SD80 and HDC-HS80 include:
New HYBRID OIS (Optical Image Stabilization) — Helps reduce blur due to arm and hand shake with a lens in the optical system and a sensor in the electrical system. Detects blurring caused not only by vertical or horizontal wrist movements, but also the subtle blurring that occurs when the entire arm moves vertically or horizontally. Also achieves powerful correction during high-powered zooming, even on the move.
iA (Intelligent Auto) with Face Recognition — Selects the most suitable shooting mode at the press of a button, including Face Recognition, which finds the faces of registered people (up to six faces) and optimizes the focus and exposure for them. The camcorder continues to track this subject as the person moves anywhere within the frame.
Eco-Mode — Automatically turns off the power when the camcorder is not operated for five minutes, reducing wasteful energy use and saving battery power.
Price and Availability
All models will be available in black, while the HDC-TM80 and HDC-SD80 will also be available in red and silver. Suggested retail prices are: