Panasonic today announced the 12-megapixel compact digital camera, the LUMIX DMC-FX90, which includes Wi-Fi connectivity (802.11 b/g/n) to allow easier sharing of photos and videos. In addition, Panasonic is introducing LUMIX CLUB, a cloud-based photo sharing service and a LUMIX LINK app to get your camera's photos onto your iPhone or Android smartphone.
The DMC-FX90 features a 24mm ultra-wide LEICA DC VARIO-SUMMARIT wide-angle lens complete with a 5x optical zoom (available also in video recording) and an F2.5 brightness. The 3.0-inch 460,000-dot LCD with Smart Touch that controls the camera settings by intuitively touching the screen during recording or playback. Touch operations include Touch AF, Touch Zoom, Touch Shutter, Beauty Retouch and Art Retouch modes. In addition, functions and settings used most often, such as O.I.S., AF point and white balance, can easily be customized to the user and accessed via the shortcut setting by dragging the icon to the main menu.
The LUMIX FX90 is powered by a 12.1-megapixel Hi-Speed CCD sensor and is compatible with high-speed, large-capacity signal processing required for 1920 x 1080 60i (sensor output 30p) full-HD video recording in the AVCHD format. Videos can also be recorded in MPEG4 format to easily playback on a computer and other portable electronic devices. To complement its high-quality video capabilities, the LUMIX FX90 also includes Dolby Digital Creator to record high quality audio. The Venus Engine powers the Sonic Speed AF, enabling extremely fast start-up times, making the LUMIX FX90 not only a powerful digital camera, but a speedy one, too. Also, the Venus Engine also provides precisely selective noise reduction to the chromatic noise without affecting the border of colors, so images are naturally clear and crisp in both photo and video recording.
Like all of Panasonic's digital cameras, the LUMIX FX90 features Intelligent Auto. When in iA mode, the LUMIX FX90 automatically chooses the best setting based on the shooting environment and features include: Active Mode in MEGA O.I.S. (Optical Image Stabilization), Motion Deblur, Face Recognition, Face Detection, AF Tracking, Intelligent ISO Control and Intelligent Scene Selector and Intelligent Exposure. Even when shooting video, the LUMIX FX90 enables the following features when in iA: AF Tracking, MEGA O.I.S., Face Detection, Intelligent Scene Selector and Intelligent Exposure — all available to help take clear videos worthy of sharing with friends and family.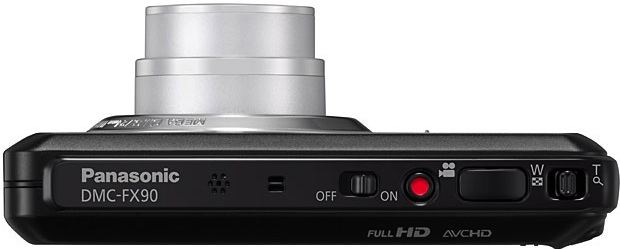 Pricing and Availability
Pricing and availability for the LUMIX FX90 will be announced approximately 30 days prior to shipping.