Panasonic today introduces two slim and stylish digital cameras to its highly-successful LUMIX FH-Series. The ultra-compact 16.1 megapixel LUMIX DMC-FH5 and 14.1 megapixel LUMIX DMC-FH2 both feature newly-developed retractable, high-quality 28mm wide-angle LEICA DC lenses with a 4x optical zoom. With the new retractable lens, the LUMIX FH5 and LUMIX FH2 have approximately 20% slimmer profiles than their predecessors, while still maintaining exceptional performance. Both models also record 1280 x 720p High Definition (HD) video.
The newly-incorporated Venus Engine VI in the LUMIX FH5 and LUMIX FH2 elevates resolution performance, zooming capabilities, start-up speed and auto focusing. The Intelligent Resolution technology realizes optimum signal processing to give the entire image outstanding natural clarity. Taking advantage of the powerful Intelligent Resolution, the 4x optical zoom power is increased to 5x with the Intelligent Zoom function, while still preserving photo quality.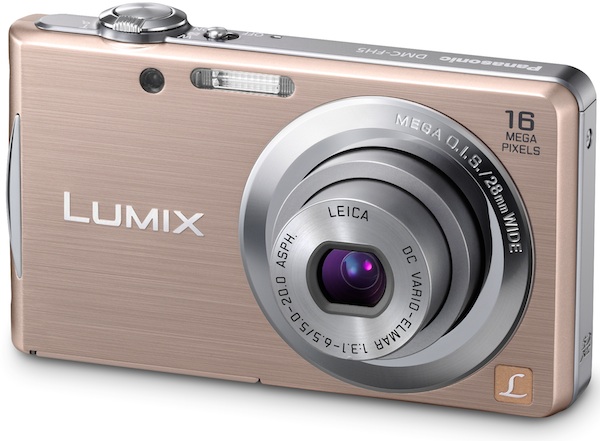 Panasonic's popular iA (Intelligent Auto) mode, a suite of technologies that engage automatically, with no setting changes needed, makes it easy for anyone to take beautiful photos. The LUMIX FH5 and LUMIX FH2 feature two new iA functions — AF (Auto Focus) Tracking and Intelligent Exposure. AF Tracking locks onto any subject and keeps it in focus. Intelligent Exposure optimizes the exposure for each part of an image, preventing blocked shadows and blown highlights, while helping to ensure that gradation and details are reproduced flawlessly. Other features of Panasonic iA mode include:
MEGA O.I.S. (Optical Image Stabilization) — Helps reduce blurry photos due to hand-shake
Intelligent ISO Control — Reduces blur when the subject is moving
Face Detection — Helps to ensure registered faces are captured in focus with appropriate exposure, and also digitally corrects unwanted red eyes
Intelligent Scene Selector — Selects the best option from Macro, Portrait, Scenery, Night Portrait, Night Scenery and Sunset by detecting the environment
Users can also enjoy instant photo and video sharing with LUMIX Image Uploader. Simply check the photos/videos you want to share and connect the camera to a PC. Uploading starts just by following the easy on-screen guide.

Other features include:
Intelligent LCD — The LCD detects the lighting conditions and controls the brightness level in 11 fine steps, to display the most appropriate setting
Scene Modes — A total of 28 modes, such as Baby, Pet and Sports, and users can also record the name/birthday of a child or pet and embed the information in the photo
Built-in memory — Has increased to 70MB
Price and Availability
Pricing and availability for the Panasonic LUMIX FH5 and LUMIX FH2 will be available in March 2011.
The LUMIX FH5 will be available in silver, black, violet and gold models for $149.99
The LUMIX FH2 in black, pink, red and blue for $139.99