Outlaw Audio introduced the OAWA3 Amplified Wireless Audio System, successor to the OAW3 passive (without amplification) wireless streamer which is geared for use with already powered subwoofers. The new OAWA3 powered version provides 30-watts of amplification for surround speakers or speakers across the house.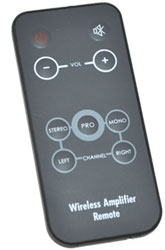 The OAWA3-r Amplified Receiver utilizes the same dedicated 2.4 GHz network protocol as the passive OAW3 Wireless Audio System. This means, you'll maintain the OAW3's long distance operating range, lossless CD quality sound, and extremely low latency.
Compatible with traditional 8 ohm speakers, the OAWA3-t Amplified Wireless Receiver delivers a surprisingly potent 30 watts of power with one channel driven, or 20 watts with both channels driven in stereo mode. Weighing less than 1 lb, and housed in a velvety smooth chassis with high quality five-way binding posts, the OAWA3 system looks as great as it sounds.
Installation is simple, as you plug a cable from the transmitter into your receiver's pre-amp output jacks and the output of the OAWA3 receiver to your speakers. Of course, a pair of AC adaptors are included, and once connected you're good to go. No more worries about lengthy speaker wires to get the signal from here to there.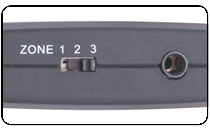 The range is up to 100 meters with line-of-sight, giving all the flexibility you need for your speaker placement. It is ideal for sending audio to a second zone without wires, using traditional 8 ohm speakers. For the ultimate in flexibility, you can even stream audio from a computer to your home entertainment system. Simply connect a USB connection from a computer or server to the OWA3 on the transmit side, and a pair of speakers elsewhere in the house to the OAWA3 Receiver.
Note Outlaw's OWA3 and OAWA3 look to be re-branded versions of the Atlantic Technology WA-5030 powered and WA-50 passive wireless audio systems, which both do the same thing. Although, Outlaw Audio claims on their website they designed and engineered the OAWA3. Regardless one is obviously a copy of the other, or another brand. Just not sure which.
Price and Availabililty
A complete OAWA3 Amplified Wireless Audio System, which includes both the OAW3 Transmitter and the OAWA3-r Amplified Wireless Audio Receiver w/ remote control is available for $319. An add-on OAWA3-r receiver module, with remote control is $199.
Specifications
RF band: 2.4 Ghz
SNR: 93dB
USB 2.0 Interface
8 ohms compatible
Wireless Range: 50M, 100M w/Line of Sight
Time delay max: 10ms
Wattage: 2×30 WPC, 1kHz, 8ohms (one channel driven)
2×20 WPC, both channels driven
Transmitter Dimensions (H/W/D): 3.26″ x 1.45″ x0.62″
Receiver Dimensions (H/W/D): 3.26″ x 1.45″ x0.62″
Weight (approx.): less than 1lb.
Warranty: 2 years (parts/labor)