Onkyo announced four new packaged home theater systems consisting of the HT-S6400, HT-S7400, HT-S8400, and HT-S9400THX. All four have a front-panel USB port that offers a direct digital connection for an iPod or iPhone, along with support for audio playback from USB mass-storage devices. The top three models include Ethernet networking capabilities to support streaming PC audio and Internet radio from the likes of Pandora, Rhapsody, Napster, SiriusXM Internet Radio, Slacker, Mediafly, Last fm, and vTuner and provide compatibility with Windows 7 and DLNA. The Internet connection greatly simplifies the process of providing future updates to the receiver's firmware. These same three models also include the new Marvell Qdeo 4K video upscaling processor for use with upcoming higher resolution video display.
These networking models can also take advantage of Onkyo's free Remote App for iPod, iPhone, or iPad to control the A/V receiver. All these models are also compatible with the recently announced UWF-1 Wireless USB Adapter that provides an IEEE 802.11b/g/n connection to access music on a home network.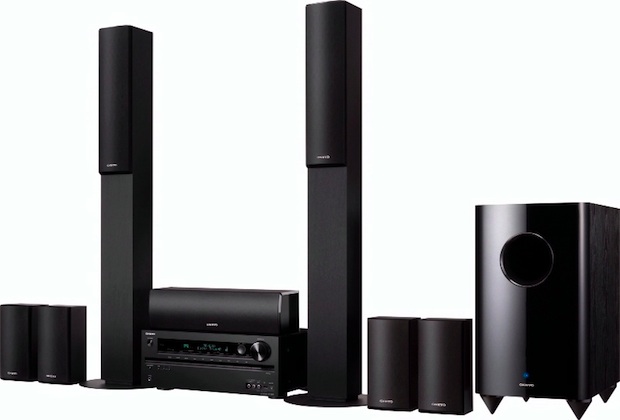 As with previous HTiB lineups, the top-of-the-line 7.1-channel HT-S9400THX is THX Certified and includes THX approved speakers–the reference standard for excellence in home theater sound. The HT-S8400 includes a distinctive 7.1-channel slim floor standing speaker package with high-performance 41-inch high front speakers, while the HT-S7400 uses a more-compact 5.1 speaker package. All of these systems include powered subwoofers.
The HT-S6400 uses brand new 5.1-channel speaker set that includes a powered subwoofer and matching gloss-finished front, center, and surround speakers. These compact–yet reassuringly solid–speakers are made from a new, high- density resin designed for maximum rigidity and minimum vibration. The elegantly curved shape of the speaker cabinets does more than just add a touch of class; it also helps to counteract standing waves, ensuring sound output with greater fidelity. This speaker system will also be sold separately as the SKS-HT690.
Price and Availability