Onkyo to Release Remote Interactive (RI) Dock for iPod to Enable Interface with Onkyo Audio-Video Systems and Component
04/13/05 – Onkyo Corporation is set to release the Remote Interactive (RI) Dock for iPod, also known as the DS-A1, in Japan on April 29th, 2005, with overseas release to follow from May through June. Utilizing Onkyo's remote interactive (RI) system, the RI Dock has been designed to interface between Onkyo audio-video systems and the iPod series produced by Apple Computer, Inc. Onkyo first announced its intentions to release the RI Dock on February 24th, 2005.
Actual release date: April 29th, 2005 (in Japan)
Product name: Remote Interactive (RI) Dock for iPod
Product code: DS-A1
Retail price: Open (no recommended retail price)
Initial monthly production: 3,000 units
DS-A1 Product Overview
The RI Dock provides an interface between Onkyo audio-video systems/components and the iPod. After placing the iPod in the RI Dock and connecting it with an Onkyo audio-video system, basic iPod functions–such as Volume Control, Play, Stop and Skip–can be operated via the Onkyo system's remote controller. The primary benefit of this connection lies in the supreme audio quality that an Onkyo audio-video system can deliver. On top of this, the RI dock not only recharges the iPod, it also enables photos downloaded to an iPod photo to be viewed via an Onkyo home theater system. The iPod will thus become an integral component of any Onkyo audio-video system, and will further its value as a digital media device.
Background to Onkyo Remote Interactive (RI) System and the RI Dock
(Summary of announcement from February 24, 2005)
Onkyo's Remote Interactive (RI) system enables users to operate, via a single remote, all parts of a system set up with some or all of the following components: receivers, amplifiers, universal/DVD/CD players, disk changers, MD decks, cassette decks and tuners. It enables users to enjoy the same level of smooth operation as they experience with an integrated audio-video system. For example, power on/off can be synchronized across components, and the selector input can automatically switch to playing a just-selected component (Auto Selector function). RI capability has been included on most Onkyo products over the last 10 years, giving users the opportunity to change or add components over time. Needless to say, longevity and convenience are key benefits of Onkyo's RI system (As an aside, over the last 10 years, Onkyo has sold more than 5,000,000 audio-video systems and receivers/amplifiers worldwide.).
When it comes to enjoying music, consumers are faced with an ever-diversifying range of audio players, audio-video systems, PCs and portable devices. Hence the increasing demand for greater cross-operability among products from different manufacturers. Onkyo's response has been to develop enhanced operability through its RI technology. The upcoming RI Dock, which conveniently links with Apple's iPod, offers integrated functionality that is sure to generate interest among legions of music fans worldwide.
Main Features of RI Dock
Connecting iPods with RI-Compatible Onkyo Audio-Video Systems
(Please refer to the section titled "Compatible Models and System Environments")
Connection Set Up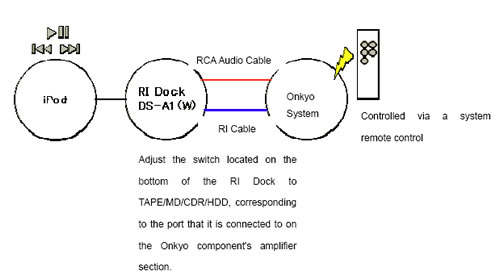 1. Remote Control Operation
Any RI-compatible receiver/amplifier or system component with a remote controller enables operation of basic iPod functions such as Volume Control, Play, Stop and Skip.
2. Simultaneous Start-up
The RI Dock enables simultaneous booting up of the iPod and your Onkyo system's receiver/amplifier.
3. Auto Selector
When playback is initiated on your iPod, the input selector automatically switches to the iPod.
4. Timer Play/Sleep Timer Function
The Timer Play function enables you to use your Onkyo system's timer to play back your iPod at a specified time. The Sleep Timer, meanwhile, lets you switch the unit to Standby mode after a specified interval.
5. Play from Playlists/Repeat/Random
These functions enable you to play tunes from your playlists or switch to other modes such as Repeat or Random, all of which are set up in your iPod.
6. iPod Alarm Function
Using the Alarm function set up on your iPod, you can make your Onkyo system's amplifier launch automatically and start playing at a specified time.
(Note: Operation begins when the Play function on the iPod is detected. When the amplifier's power is off, it takes 5 seconds until the speakers are fully activated. If the power is on, meanwhile, it takes 0.5 seconds for the speakers to start producing sound, due to muting which occurs during selector switching.)
Note: Functions 2 to 5 may not be available, depending on the capabilities of the connected Onkyo system.
Other Features
• iPod batteries automatically recharge in the RI Dock (Note: AC adapter not required).
• Using the S-Video output on the RI dock, you can output a photo slide show and view it on a display.
Compatible Models and System Environments
Compatible iPod Series
The following iPod models are compatible with the RI Dock: Third generation iPod (touch wheel); Fourth generation iPod (click wheel); iPod mini; iPod photo. Please note, however, that operating functions may vary depending on the version of software installed on your iPod. Please update your iPod with the latest software before using it with the RI Dock. Also note that certain functions are unavailable on the third generation iPod, even with the latest software installed.
• First and second generation iPods cannot be connected to the RI Dock, as they lack a connector on the underside of the main unit. iPod shuffle is also incompatible with the RI Dock.
Compatible Onkyo Systems
The RI Dock can interface with all RI remote-controlled Onkyo components featuring input terminals such as MD, TAPE, CDR or HDD on the amplifier section. RI-compatible components include receivers/amplifiers, home theater systems and all-in-one component systems.
• Usable functions vary depending on which Onkyo model is connected.
Operational Limitations
• The iPod's built-in equalizer cannot be adjusted via an Onkyo system's remote controller.
• iPod menus cannot be browsed through an Onkyo system's remote controller.
• Recording onto iPod is not possible with the RI Dock.
• Audio output is via an analog (pin) cable only.
Main Specifications
• Terminals: S-Video output x 1, Analog audio output x 1, RI terminal x 1, Power adaptor connection x 1
• WHD: 4-7/162 x 2-3/162 x 4-7/162 (112 mm x 56 mm x 112 mm)
• Weight: 0.48 lbs. (220 g)
•Included accessories: AC adaptor, Audio RCA pin cable (1.8 m), S-Video cable (1.8 m), RI cable (1.8 m), Mount Kits x 3 (for iPod mini; iPod 10G/15G/20G and iPod photo 30G; iPod 30G/40G and iPod photo 60G)
• Information presented in this news release regarding price, specifications, release date, etc. is current at the time of writing.
______________________________________________

•iPod, iPod mini and iPod photo are trademarks of Apple Computer, Inc.
•RI EX and 'Imaginative Sight & Sound' are registered trademarks of Onkyo Corporation.
•Due to a policy of continuous product improvement, appearance, features and specifications are subject to change without prior notice.
•Colors of displayed products may differ from the actual colors, depending on shooting and printing conditions.