Onkyo has introduced an audio-video mini system and stereo mini system that are each well suited for the office, bedroom, dorm room, or summer cottage. The AV mini system consists of a powerful DVD/CD receiver with a built-in dock for iPod, a USB connection, high definition HDMI video output with 1080p upscaling, and a pair of two-way loudspeakers. The step-down stereo music system has a CD receiver, built-in dock for iPod/iPhone, and slightly smaller two-way speakers.
The Onkyo CS-V645 DVD/CD Mini System ($399) plays a wide range of audio and video formats from DVDs, CDs, iPod, and USB. In addition to standard DVD and CD playback, it supports MP3, WMA, JPEG, and DivX file formats. Video programs are upscaled to 1080p resolution for output to a high definition video display over an HDMI connection. The dock for iPod is located on the top of the receiver, and the USB jack is on the front panel for easy access for flash drives and cable-connected systems.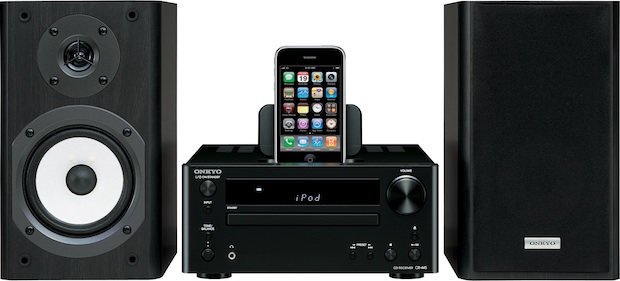 The Onkyo CS-445 CD mini system ($329) plays CD's CD-R and CD-RW media with standard CD-audio, MP3, and WMA files, and the top-panel dock for iPod/iPhone dramatically increases the available music sources.
Both systems have powerful 40-watt stereo amplifier sections and a pair of high-performance two-way bass-reflex loudspeakers with 1-inch soft dome tweeters and the company's signature OMF (Onkyo Micro Fiber) woofer cones. The DVD receiver has a 20-preset FM tuner, the CD receiver has an AM/FM tuner with 40 presets, and both models include a full-function remote control.
Price and Availability
$399 → Onkyo CS-V645 (available in early December)
$329 → Onkyo CS-445 (available in early November)