These mounts get as close to the wall as possible while making sure there is proper space for connections and panel cooling
OmniMount, the global leader in consumer and commercial A/V mounting and furniture solutions, has announced the launch of VideoBasics low profile flat panel mounts. All three products in the line are engineered to meet proper panel installation requirements, while minimizing mounting profile. With a mounting profile of only .75 inches, these three mounts set flat panels just far enough from the wall to allow for easy connectivity of a standard HDMI cable, and still allow proper cooling to protect and prolong the life of the TV.
Convenience is another key to the VideoBasics mounts, with installation time reduced by means of a small footprint single wall plate design, which provides ample room for A/V cutouts behind the panel. Spacers are also included to accommodate panels with rear bump-outs. This line has all the features installers are accustomed to from OmniMount: Lift n' Lock™ for easy installation, locking bar for added safety and security, sliding lateral on-wall adjustment, universal rails for maximum compatibility, open architecture for simplified wiring and an installation template.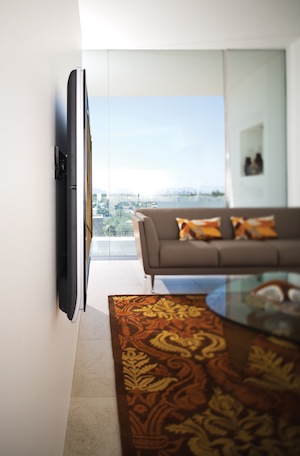 OmniMount's VideoBasics mounts are manufactured with the best quality standards in the industry for durability and functionality with an innovative design. Available in three sizes to fit most any medium to extra large flat panel, these slim profile mounts are made from heavy-grade steel and boast aggressive MSRPs starting at $79.95.
"OmniMount continues to be dedicated to providing innovative mounting solutions to accommodate all needs and price points and our latest offering is VideoBasics," said Alex Robertson, senior vice president of sales and marketing for OmniMount. "With panels getting lighter and thinner, we saw the need for a complementary mounting solution; by coupling this appropriately-thin design with an installer-friendly single wall plate, we expect installers and consumers alike to love this new offering."
The VFM, VFL and VFX accommodate most flat panels from 23 to 42 inches and up to 80 pounds, 37 to 63 inches and up to 150 pounds and 42 to 70 inches and up to 200 pounds respectively. The VideoBasics mounts are all UL listed, which means that they've been tested and approved to hold more than four times their published weight capacity.
Available for immediate shipping now, the VFM, VFL and VFX have aggressive MSRPs of $79.95, $99.95 and $119.95 respectively.
About OmniMount
OmniMount is a global leader in the design and manufacturing of A/V mounting and furniture solutions for residential home entertainment and commercial applications. A perennial innovator, OmniMount has set industry standards for over three decades with groundbreaking in-house design and engineering, premium quality and unsurpassed reliability. Whether it's a small speaker, a large flat panel display, or anything in between, OmniMount has the right mounting solution for every job. Based in Phoenix, Arizona, OmniMount currently is represented in more than 67 countries.