NETGEAR announced the NTV200S NeoTV Pro HD Streaming Player offering built in streaming from a laptop to the TV with Intel Wireless Display (WiDi) or access to Netflix, Hulu Plus, Vudu, Pandora and hundreds of other online channels
With the NeoTV Pro, users can choose from a large selection of streaming movies, TV shows and music to instantly stream content to their TVs in up to full 1080p HD and surround sound from the comfort of their living room. And now, for customers that are not satisfied with hundreds of streaming channels but want the worldwide web on the big screen, the NeoTV Pro enables consumers to wirelessly display virtually any type of content from an Intel WiDi laptop to a TV, including sport broadcasts that are only online, movies, music, photos and any Internet site.

NETGEAR NeoTV Pro easily connects to the Internet via built-in high-speed 300 Mbps WiFi, which can deliver smooth streaming at 1080p HD video resolution, or wired through an Ethernet cable. Navigation is simple with the NeoTV Streaming Player remote control app, which turns an Apple iPhone, iPad, iPod Touch or Android smartphone or tablet into a high-end touch screen remote control. Available free from Apple's App Store and Google Play, the remote control app makes navigating movies, TV shows, songs and videos on NeoTV Pro simple and intuitive. For those without a smartphone, the NeoTV Pro Streaming Player comes with a regular remote control.
NETGEAR also announced the addition of four new streaming channels available on all NeoTV streaming players starting in June. One of the new channels, SpiritClips, provides NeoTV users with a library of wholesome and engaging Hallmark Hall of Fame feature films, available on-demand.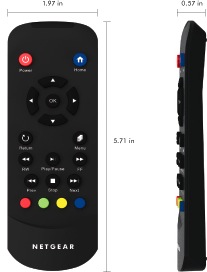 In addition to SpiritClips, examples of new content available through NeoTV include:
Fred – Fred Figglehorn is the biggest YouTube celebrity, reaching nearly a billion video views.
And1 Basketball – And1 is an amazing alternative street basketball league that brings everything from dunking contests to some of the most amazing basketball highlights ever captured.
Formula Drift – Features some of the greatest races syndicated today. Formula Drift specializes in "drifting" and will soon be syndicated on a national TV network.
Pricing and Availability
The NETGEAR NeoTV Pro Streaming Player (NTV200S) is available now for $69.99. See more streaming players.