Motorola, Sprint and Boost Mobile Get Ready to Welcome Thinnest iDEN Flip, Motorola Stature i9, to the Fastest National Push-to-Talk Network1
Motorola, Inc. (NYSE: MOT), Sprint (NYSE: S) and Boost Mobile have teamed up to announce the upcoming availability of Motorola Stature i9, the thinnest flip phone in the Nextel Direct Connect portfolio. Motorola Stature i9 will be available from Boost at www.boostmobile.com by the end of February with Sprint getting the device shortly thereafter. Customers can sign-up to learn Sprint's exact availability date for Motorola Stature i9 and be among the first to own it by pre-registering at www.sprint.com/stature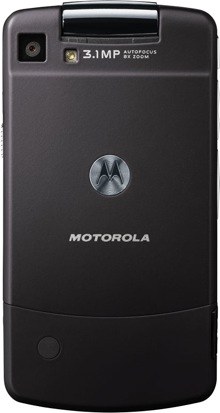 More than Just Good Looks
A revolution in the iDEN portfolio, Motorola Stature i9 is a multimedia powerhouse featuring:
a slim, refined design at only 15mm with a touch-sensitive exterior flip
the first 3.1 megapixel camera with flash and auto-focus on the Nextel National Network for high-resolution images that can be printed or enjoyed on one of the two large, crisp screens
easy-to-use external keys for quick access to can't-live-without it content, including a music player and integrated GPS2
the ability to store up to 8GB of images, videos and music with optional removable memory (sold separately)
Motorola's innovative ModeShift technology that allows the exterior keys to change and illuminate based on the user's current application, such as camera operation or the media player
haptic feedback providing gentle vibration acknowledging the user's touch
hands-free reliability with stereo Bluetooth wireless technology.3
"With its advanced feature set and a style that requires a double take, Motorola Stature i9 represents a significant milestone in our iDEN history," said Rick Gadd, vice president, Motorola Mobile Devices. "In addition, offering this device to consumers in both a post-paid option with Sprint and pre-paid option with Boost Mobile shows the continued consumer demand for iDEN products and our ongoing commitment to the technology."
"Motorola Stature i9 is the latest example of our continuing commitment to our Nextel Direct Connect customers giving them best-in-class push-to-talk services on an incredibly attractive device," said Danny Bowman, president of Sprint's iDEN business unit. "Sprint has invested billions of dollars in the iDEN network, adding thousands of cell sites to bolster capacity and coverage. As a result, the network is performing at best-ever levels enabling customers using Stature or any of our iDEN devices to experience the speed of the fastest national push-to-talk network."
"A first of its kind for Boost, the addition of Motorola Stature i9 to our diverse handset line-up further exemplifies Boost's commitment to meeting the needs of every consumer," said Matt Carter, president of Boost Mobile. "Boost Mobile offers a full suite of solutions for every customer with a range of handsets to choose from and budget-friendly, dependable services such as our new $50 Monthly Unlimited plan. From entry-level to high-end, simply put – Boost has something for everyone."
Reliability at the Touch of Button
As powerful as it is stylish, Motorola Stature i9 features easy-to-use external keys for quick access to the only national sub-second call- set-up solution in the market, Nextel Direct Connect, Sprint's industry-leading push-to-talk offering. The Nextel National Network, performing at best-ever levels, serves the world's largest community of push-to-talk users on the fastest national push-to-talk network1.
Nextel Direct Connect allows instant coast-to-coast and country-to-country communication at the touch of a button1. Motorola Stature i9 is the latest device in the Nextel Direct Connect portfolio that offers unique push-to-talk options:
Direct Send™ allows users to send contact information and pictures to another Direct Send-capable phone within seconds with just the push of the button2.
International Direct Connect enables push-to-talk communication in and between the U.S. and Canada, Mexico, Brazil, Peru, Chile and Argentina.
Group Connect service enables group push-to-talk conversations with up to 20 participants nationwide, and the groups can be directly set up on the handset within seconds2. (Not available from Boost)
Direct Talk™ service allows short-range push-to-talk communications in areas without network coverage, depending on specific conditions such as terrain2. (Not available from Boost)
Availability and Pricing
Motorola Stature i9 will be available through all Sprint Nextel channels, including http://www.sprint.com 1-800-Nextel-9, at a price of $199.99 with a two-year service agreement and after a $50 mail-in rebate. It will be available through Boost Mobile distribution channels at a price of $299.99 with no contract, credit check or activation fees.
Boost Mobile, Sprint's prepaid business, recently announced Boost Monthly Unlimited, a plan offering unlimited anytime calling, text messaging, wireless Web and walkie-talkie services with a national calling area for $50 a month. The new nationwide service is available in 15,800 cities throughout the United States on the Nextel National Network — all with no additional Telecom Taxes, or roaming, traveling, domestic or long distance fees — an excellent value in today's economic times.
Sprint recently launched a new advertising campaign sharing unique Nextel Direct Connect Custom Plans for businesses that wish to control costs without limiting communication. The new plans provide unlimited Direct Connect, Group Connect, Mobile-to-Mobile, Text Messaging and Picture Mail, starting at just $29.99 per month2.
About Motorola
Motorola is known around the world for innovation in communications. The company develops technologies, products and services that make mobile experiences possible. Our portfolio includes communications infrastructure, enterprise mobility solutions, digital set-tops, cable modems, mobile devices and Bluetooth accessories. Motorola is committed to delivering next generation communication solutions to people, businesses and governments. A Fortune 100 company with global presence and impact, Motorola had sales of US $36.6 billion in 2007. For more information about our company, our people and our innovations, please visit www.motorola.com.


1 Fastest based on initial call setup time.
2 Network and/or SIM card dependent feature, not available in all areas. Airtime, data charges, and/or additional charges may apply. PTT and Send via PTT connectivity requires compatible phones.
3 This device supports Bluetooth A2DP and AVRCP profiles. In order for Bluetooth devices to communicate with one another, they must utilize the same Bluetooth profile. To determine the profiles supported by other Motorola devices, visit motorola.com/bluetooth. For other devices, contact their respective manufacturer.
Certain Bluetooth features including those listed may not be supported by all compatible Bluetooth-enabled devices, and/or the functionality of such features may be limited in certain devices, or by certain wireless carriers.