Logitech unveiled the G700 Wireless Gaming Mouse with 13 programmable controls and a natural shape that fits your hand. The G700 offers full-speed wireless freedom without performance compromises.
Optimized for MMO while still offering the precision needed for FPS, the Wireless Gaming Mouse G700 keeps you comfortable, in control and deep in your game. Its 13 precisely placed controls can be programmed to perform single actions or complex macros with a single click, but are out of the way when you don't need them. The full-speed wireless connection (1000 reports per second) gives you gaming performance without lags coupled with the freedom of wireless.
The G700 mouse is designed with natural curves to better fit your hand — so you can keep playing comfortably for as long as you want. The quick-connect charging cable provides both power, even when the mouse is still in use, and data-over-cable capabilities for LAN-friendly connectivity.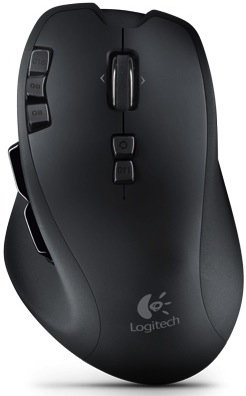 Features
13 programmable controls with macro capability: Perform either single actions or intricate macros with multiple keystrokes, mouse events, user-defined delays and repeating.
Individually sculpted buttons: Every button on the G700 is carefully designed and placed to be easily identifiable by touch, so they're right there when you need them but out of your way when you don't.
Ideal for MMORPGs: When your guild gets together, you'll have all the control you need to do battle, complete quests and level up your character.
Natural curves that fit your hand: Your mouse is designed to let you play comfortably and maneuver effortlessly for as long as you want.
Smooth gliding feet: You can forget sticky workarounds–the low-friction polytetrafluoroethylene feet glide effortlessly across almost any surface.
Full-speed wireless: 1,000 reports per second give you gaming-grade responsiveness and wireless freedom. You get a steady, powerful connection with no dropouts.
Rechargeable: You'll always have the power you need. A quick-connect cable lets you plug in fast and continue your campaign without pause.
Data over cable: Worried about that critical game situation? Playing in a busy wireless environment? With data over cable you always have a backup for reliable connectivity.
Gaming-grade laser: Game-changing precision at any hand speed. Whether you're zeroing in on one pixel or whipping across a million, the gaming-grade laser gives you hard-to-beat cursor control.
Onboard memory profiles: You can program up to five profiles for individual players or games (keyboard macros and dpi settings), so you can play your way on other PCs–without software installation.
Plug-and-Forget Nano-receiver: Take it with you–your Gaming Mouse G700 is laptop ready. The tiny receiver can stay plugged in a USB port or stores inside the mouse for when you head to a LAN party.
Sensitivity switching: You can shift from pixel-precise targeting (200 dpi) to lightning-fast maneuvers (up to 5,700 dpi) in an instant.
Dual-mode scroll wheel: You get precise click-to-click scrolling that's perfect for weapon selection when you're gaming. Hyper-fast scrolling lets you fly through long Web pages.
LED display: Your battery power, profile settings and dpi sensitivity are always visible at a glance–without being covered by your hand.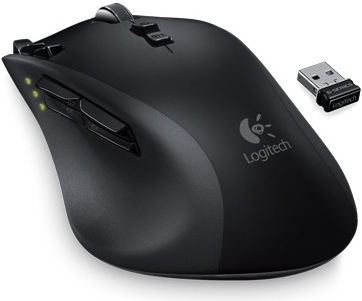 Pricing and Availability
The Logitech® Wireless Gaming Mouse G700 is available for a suggested retail price of $99.99 (U.S.).