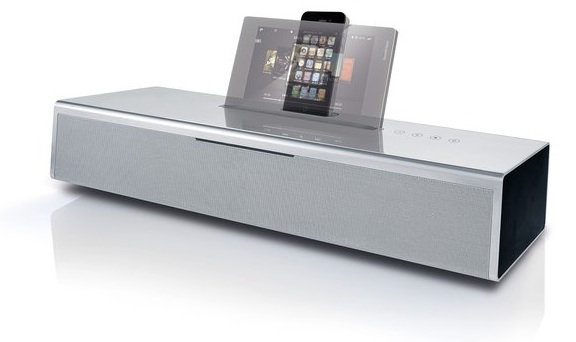 Loewe announced SoundVision, an all-in-one, network-compatible audio system with fixed 7.5-inch touchscreen display. The SoundVision integrates six built-in speakers, two of which are subwoofers, with a front loading CD player, iPod/iPhone dock and built-in FM radio. Internet radio or music stored on a network can be played over its Wi-Fi or Ethernet connection. There is also the option of sending music directly from a mobile phone to the Loewe SoundVision via Bluetooth. Similarly, music can be sent from the Loewe SoundVision to compatible Bluetooth headphones.
Network functions allow recommendations for new songs to be received via AUPEO, while Gracenote can discover and display title or artist for a given piece of music, while the song is playing.

The Loewe SoundVision is milled from one single piece of aluminium with a highly polished top which houses touch sensitive buttons. Interchangeable side insets are available with almost no limit to the range of colors to choose from.
A Loewe Assist remote control is also included.
Price and Availability
The Loewe SoundVision is expected to be available October 2011 in the UK for £1,199.