New LG Chocolate Touch Invites Customers to Join the Band
Verizon Wireless and LG Mobile Phones announced that the LG Chocolate Touch™ will be available today in Verizon Wireless Communications Stores and online at verizonwireless.com. Equipped with patented Dolby Mobile, the Chocolate Touch brings a dramatically richer listening experience with its potent bass and sparkling clarity, making it the perfect companion for music lovers.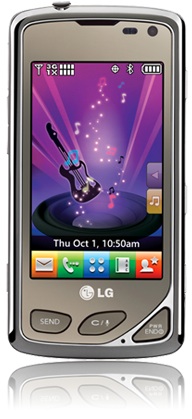 Music features:
FM radio with 12 presets
Integrated Song ID
Dedicated side key for easy access to favorite songs
Bluetooth-capabilities with support for the following profiles: headset, hands-free, dial-up networking, stereo, phonebook access, basic printing, object push for vCard and vCalendar, file transfer, basic imaging and human interface device
"Join the Band" feature allows customers to use their fingers to tap on a full drum kit complete with snare drum, kick drum, floor tom, hi-hat cymbal, ride cymbal, crash cymbal, and even a cowbell

The "Join the Band" piano function allows customers to play along on a full scrolling 88-key keyboard. With the option to press "Pause" to stop the music and show off solo skills, the possibilities of fun are endless

Dolby Mobile equalizer, enhancing the listener's experience with:

Sound Space for Headphones – Adds spaciousness and impact to headphone listening from stereo content
Natural Bass – Provides a clean, powerful bass extension without artificial side effects
High-Frequency Enhancer – Reinforces high frequencies, especially for lower-quality source content
Sound Level Controller – Maintains a consistent playback level, both within a particular program and across content
Additional features:
Sleek, compact and stylish multi-featured touch screen phone with a rounded shape and metallic finish
Access to Twitter, Facebook, MySpace and other social networking sites. A dedicated social networking shortcut key allows users to upload pictures and videos to Twitter, Facebook, MySpace and other social networks.
3.2 megapixel camera and camcorder that includes:
Five different resolutions
Zoom up to 1.6 times
Intelligent shot for improved image quality
Panorama for three guided sequential shots
Facial makeover that removes blemishes and enhances features
Image editor with zoom, rotate, crop, added frames and stamps
Ability to write over images
Customize brightness, white balance, shutter sounds, color effects and use a self-timer
Pricing and availability
The LG Chocolate Touch is available for $79.99 after a $50 mail-in rebate with a new two-year customer agreement on a Nationwide Calling Plan. Customers will receive the rebate in the form of a debit card; upon receipt, customers may use the card as cash anywhere debit cards are accepted.