LG Electronics announced the Optimus 3D Max, a glasses-free 3D smartphone that upgrades the capabilities of their previous Optimus 3D smartphone. The 4.3-inch size remains the same, but the new model claims to provide an exclusive brightened display. Network speed has been improved to HSPA+ 21Mbps. LG Tag+ offers advanced NFC (Near Field Communication) capabilities designed to promote greater user convenience. One of its benefits is automatic setting changes which are possible by creating predefined tags that are customized to certain modes such as car-mode, office-mode or sleepmode. Depending on location, the predefined tags will automatically adjust various phone settings including Wi-Fi, bluetooth, GPS and sound volume.
3D Entertainment with Improved 2D-3D Compatibility
Users can convert Google Earth, Google Maps and other road views into 3D using the enhanced 3D Converter. Furthermore, 3D photos and videos captured by the Optimus 3D Max can also be viewed in a single-screen mode in 2D, using the 3D Hot Key mounted on the side of the phone to easily toggle between 2D and 3D. LG also plans to continue expanding video contents, applications and games optimized for the 3D Converter.
Slimmer and Lighter Body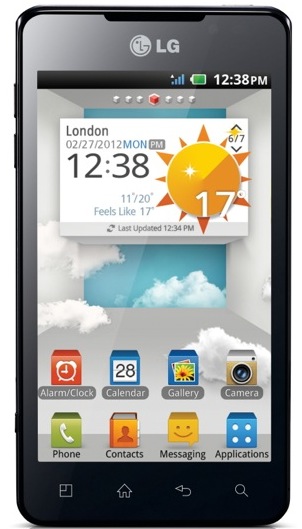 See more about:
Newest Smartphones
LG Smartphones
Daily Smartphone Deals
The LG Optimus 3D Max's premium design comes from LG's commitment to fine details. LG focused on trimming details on the design of the Optimus 3D Max by keeping only the essentials and eliminating everything else. Measuring only 9.6 mm thin and weighing 148 grams, the lean body with metallic and rounded edges incorporates the best 3D features in addition to desirable 2D features. The Optimus 3D Max includes unique 3D-style cubicle icons which users can customize with their own photos through the Icon Customizer. The Optimus 3D Max will first launch in Korea in March and will gradually roll out in other markets starting in Europe. The device will receive an upgrade to Android 4.0 Ice Cream Sandwich from Android 2.3 Gingerbread shortly after the launch.
Additional features include:
HD Converter to offer HD quality on a TV connected through MHL (Mobile High-Definition Link), when transforming Open GL-based 2D games and applications to 3D and viewing Google Earth;
Range Finder to calculate the distance between the camera and the subject as well as the dimensions of an object through triangulation;
Out-focusing Shot to enhance camera quality beyond that of other smartphones through image processing using depth information.
Key Specifications:
Chipset: 1.2GHz Dual-Core processor (OMAP4430)
Display: 4.3-inch 3D WVGA Display with Corning Gorilla Glass 2
Memory: 8GB Internal Storage, 1GB Internal Memory
Camera: 5MP Dual-lens
OS: Android 2.3 Gingerbread
Battery: 1,520 mAh
Others: HSPA+ 21Mbps
HDMI connection 2D/3D TV/monitor up to 1080p via MHL
DNLA for wireless connection with TV/PC (3D video also supported)
NFC Full Support, LG Tag+
Price and Availability
To be announced. Check price →