Successor to the Popular enV by LG, the Slim, Stylish enV(2) Comes in Two Hot New Colors Along with Larger External Keys and Internal Display
Ahead of CTIA WIRELESS 2008, Verizon Wireless, owner and operator of the nation's most reliable wireless voice and data network, and LG Electronics MobileComm U.S.A., Inc. (LG Mobile Phones) today announced the enV(2)™ by LG will be available in April, online at http://www.verizonwireless.com and at more than 2,400 Verizon Wireless Communications Stores across the nation, including those at Circuit City. The successor to the popular enV by LG, the new enV(2) gets a makeover with a new slim redesign and sophisticated black or maroon finish.
The enV(2) supports a number of features and services that customers have come to expect in wireless phones from LG and Verizon Wireless, including V CAST Music and Video, VZ Navigator(SM), Bluetooth capabilities, dual speakers and a 2.0 megapixel camera. The phone's spacious QWERTY keypad with large sized external keys makes messaging easy, while its 2.4-inch internal screen offers crisp, crystal-clear videos and images.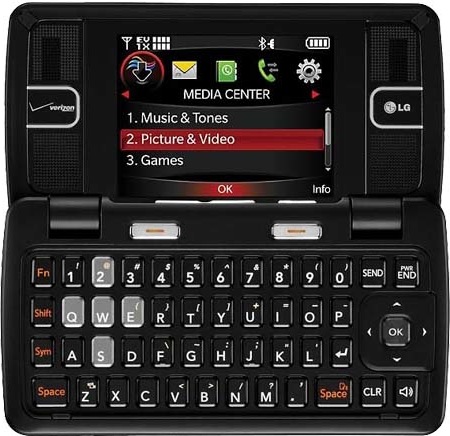 The enV(2) is the ideal multimedia device for music and video lovers. Verizon Wireless' V CAST Music store gives customers access to more than 2.8 million songs from both well-known and independent artists to download and blast on the phone's dual speakers. Music aficionados can enjoy the rich, full sound of their favorite tunes anywhere, anytime by simply pairing the enV(2) with a Bluetooth Stereo headset or accessory. Customers can also record and save a variety of video clips that can easily be shared with family and friends by using the video recording capabilities on the enV(2). A separately purchased external memory microSD™ card allows customers to store their own music or video clips on their phones and move them from their PCs to their phones.
"We are addressing the burgeoning texting trend by spending time asking what consumers want and expect from their mobile devices," said Mr. Ehtisham Rabbani, vice president of product strategy and marketing for LG Mobile Phones. "We know the texting audience wants a mobile device that is compact enough to slide easily into pant pockets and handbags without compromising the integrity of the phone's features. The slimmed-down enV(2) offers everything consumers loved about the enV with the added benefit of a larger, more spacious internal screen with large easy-to-text keys."
Equipped with access to VZ Navigator(SM), enV(2) is also a great companion when on-the-road. VZ Navigator uses location-based services (LBS) to provide audible turn-by-turn navigation and the ability to find more than 14 million points of interest, from ATMs and gas stations to restaurants and tourist destinations. The enV(2) by LG also offers the following features and capabilities:
Mobile Web 2.0(SM)-capable — customizable, enhanced wireless access to the latest in news, sports, weather and more
Get It Now-capable — download games, ringtones, wallpapers and more
Wireless Sync E-mail (BREW e-mail Client) capability
Instant Messaging using AIM, WL Messenger, and Yahoo!
2.0 megapixel camera and camcorder:
Self-Portrait capabilities and external LCD for self-portraits
Camera Resolutions: 1600 x 1200 (default), 1280 x 960, 640 x 480, 320 x 240 pixels
Image Editor — rotate, zoom, crop
Digital Zoom: up to 10x (zoom varies by image size; camera setting of 1600 x 1200 pixels does not support zoom function)
Video Resolutions: 320 x 240, 176 x 144 (default) pixels
Video Player for WMV, MP4, 3GP, 3G2 formats
Music Player for .mp3, .wma, and unprotected .aac and .aac + files
microSD memory port with up to 8 GB support — store music, customer generated pictures and video (not all downloaded content may be moved to the microSD card)
Supported Bluetooth Profiles — compatible with devices that support headset, hands-free,(*) dial-up networking, advanced audio distribution (stereo), phone book access, basic printing, basic imaging, object push for vCard and vCalendar and file transfer
Auto view and Text to Speech, so text messages can be heard aloud
1,000 address book contacts with five numbers, two e-mail addresses and a Picture ID for each entry (Picture ID is dependent on photos stored in My Pictures)
Function Key — customizable for 10 shortcuts
Frequency: 1.9 GHz CDMA PCS, 800 MHz CDMA (Digital Dual-Band)
Dimensions: 4.00″ (h) x 2.13″ (w) x 0.65″ (d)
Weight: 4.23 ounces
Standard Battery: 950 mAh Li-Polymer
Up to 320 minutes of usage time or up to 520 hours of standby time
TTY/TDD support
Hearing aid compatible (M3/T3-Rating)
The enV(2) by LG will be available for $129.99 after a $50 rebate with a new two-year customer agreement. For more information about Verizon Wireless products and services, visit a Verizon Wireless Communications Store, call 1- 800-2 JOIN IN or go to http://www.verizonwireless.com.
About Verizon Wireless
Verizon Wireless operates the nation's most reliable wireless voice and data network, serving 65.7 million customers. Headquartered in Basking Ridge, N.J., with 69,000 employees nationwide, Verizon Wireless is a joint venture of Verizon Communications NYSE: VZ and Vodafone NYSE: VOD LSE: VOD.
About LG Electronics U.S.A., Inc.
LG Electronics, Inc. (KSE: 066570.KS) is a global leader and technology innovator in consumer electronics, home appliances and mobile communications, employing more than 82,000 people working in over 110 operations including 81 subsidiaries around the world. With 2007 global sales of USD 44 billion, LG is comprised of four business units — Mobile Communications, Digital Appliance, Digital Display and Digital Media. LG is the world's leading producer of mobile handsets, flat panel TVs, air conditioners, front-loading washing machines, optical storage products, DVD players and home theater systems. For more information, please visit lge.com.
About LG Electronics Mobile Communications Company
LG Electronics Mobile Communications Company is the world's leading provider of UMTS (WCDMA), CDMA and GSM handsets, which have been designed to improve the value of customer life. With a total range of wired and wireless solutions, the company is rapidly establishing a global presence and growing its international market share in 3G handsets. For more information please visit lgusa.com.
(*) For Bluetooth vehicle/accessory compatibility, go to http://www.verizonwireless.com/bluetoothchart.
LG enV2 Reviews
From Critics Around the Web