Full HD 1080p Wireless 120Hz LCD TV with 80,000:1 contrast ratio
The LH85 wireless series allow installers the freedom to place the HDTV virtually anywhere in the room — without messy wires. To achieve this wireless experience, LG uses a supplied media box to transmit an uncompressed Full HD 1080p signal with virtually no interference or delay directly to the TV. The HDTVs can receive a wireless signal up to 30 feet away, allowing consumers to hook all content sources (such as a cable or satellite box, Blu-ray disc player, game console and home theater systems) into one box.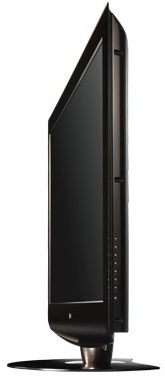 LG's LH85 series delivers an 80,000:1 contrast ratio for deeper blacks and greater picture detail. Additionally, the LH85 series features LG's 24p Real Cinema technology that allows consumers to enjoy a true cinematic experience at home, the way the movie was intended to be seen. For those that want more from their HDTV, the LH85 also includes USB 2.0 functionality allowing easy access to MP3 files and viewing of JPEG photos for a more enjoyable TV viewing experience.
ISFccc Calibration Options
Those seeking advanced calibration based on their own home theater environment, will appreciate LG's ISFccc option for the LH85 series. The professional ISF calibration helps to deliver picture quality, representing what filmmakers intended viewers to see.
Using the LG Expert Mode, an ISF-certified calibration technician will use professional equipment to calibrate the HDTV using ISF parameters based upon individual home theater environments and ambient lighting. Once calibrated to the optimal setting, the calibrations are saved as ISF "Day" and ISF "Night" modes. With ISFccc, LG offers a superior 10-point calibration. This provides an extra level of precision for gray scale calibration resulting in a more uniform picture.
Energy Savings
With Intelligent Sensor, both wireless models automatically optimize the picture to the lighting conditions in the room for a personalized and more enjoyable viewing experience; and potential energy savings. The LH85 series is Energy Star 3.0 compliant, and with LG's "Smart Energy Saving" package, which consists of features such as backlight control options and video mute, LG further paves the way toward greater energy savings, while also allowing consumers to customize their viewing experience.
The LH85 series is available in 55-inch (55LH85) and 47-inch (47LH85) screen sizes with MSRPs of $3,199 and $2,399, respectively.