In 2012, JL Audio is introducing the Slash v3 car amplifiers featuring an all-black look. The patented Class D output circuitry in the monoblocks has been enhanced to deliver 20% more power than the previous generation v2 amplifiers. On-board signal processing includes a parametric equalizer and highly advanced crossover controls.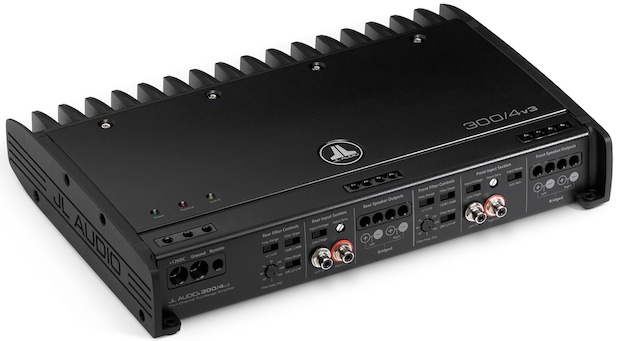 The companion four-channel amplifier is the 300/4v3, offering 75W x 4 from JL Audio's patented Absolute Symmetry Class A/B output stage.
All models feature JL Audio's R.I.P.S. (Regulated Intelligent Power Supply) technology to maintain consistent power over a wide range of load impedances and supply voltages, as well as Advanced Rollback Thermal protection to keep your music playing under the most demanding conditions.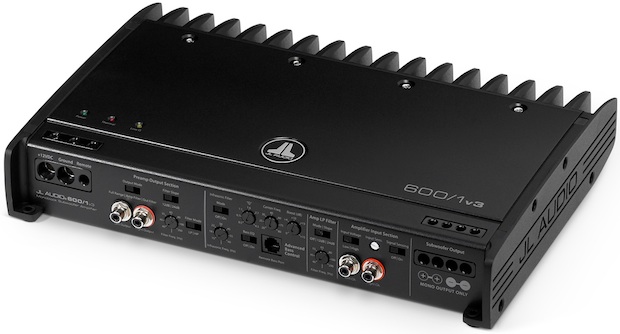 Specifications
300/4v3
600/1v3
1200/1v3
Continuous Power:
(RMS method)
11-V – 14.4V @ <0.03% THD+N
4 x 75W @ 1.5 – 4 ohms
2 x 150W @ 3-8 ohms (Bridged)
11-V – 14.4V @ <0.05% THD+N 600W @ 1.5 – 4 ohms
11-V – 14.4V @ <0.05% THD+N 1200W @ 1.5 – 4 ohms
Frequency Response:
5 Hz – 30 kHz
(+0, – 1 dB)
5-250 Hz
(+0, – 1 dB)
5-250 Hz
(+0, – 1 dB)
Damping Factor:
>200 @ 4 ohms
>500 @ 4 ohms
>500 @ 4 ohms
Dimensions (H x W x D):
2.36 x 9.25 x 13.4 in
(60 x 235 x 340 mm)
2.36 x 9.25 x 13.4 in
(60 x 235 x 340 mm)
2.36 x 9.25 x 19.7 in
(60 x 235 x 500 mm)
Availability:
Q1 2012
Q1 2012
Q2 2012
MSRP:
$649.95/each
$699.95/each
$1,299.95/each