Innergie mCube Lite
Suite of Universal Power Adapters for Laptops / USB Devices in the Air and on the Highway
The next generation of mCube universal power adapters will be introduced at the 2010 CES including three that prove "big things come in small packages:" the mCube Mini, the world's smallest universal adapter made for auto and air use, as well as the super compact mCube Slim and ultra thin mCube Lite universal adapters that move between home/office and the air for the ultimate in portability and power.
"It's an understatement to say that people are living an increasingly digital life, and an increasingly mobile one," said PS Tang, Co-founder and Vice President, Innergie. "They need to power their notebooks, their smart phones, their iPods and their Kindles in a multitude of locations, and they don't want to tote around separate, bulky chargers for each of these digital devices.
"Small, smart and stylish are the operative words," Tang continued. "We're talking about power adapters that are truly universal, energy saving, green and eco-friendly, safe and reliable — and all made with cutting-edge technology that delivers power in an ultra slim, ultra light package."
Innergie mCube Mini
The mCube Mini is the most powerful charging solution in the smallest profile possible. Considered the world's smallest auto/air universal power adapter, it allows users who are on the move to charge their laptops — in the car or on a plane. The mCube Slim is a super compact universal adapter made for use in the home/office or the air, delivering the highest level of function in a package smaller than a mobile phone. Also designed for home/office or airplane use, the super thin and lightweight mCube Lite has a thickness of just 16 mm and a weight of merely 200 grams, making it the most portable power solution for road warriors.
All three universal adapters — the mCube Mini, mCube Slim and mCube Lite — feature a specially designed USB port that gives users the ability to quickly charge all their standard USB devices. Supporting an adjustable output of 15-21 volts (18-21 for the mCube Lite), the adapters also offer great compatibility with the most popular brands of notebook computers including Acer, Asus, Compaq, Dell, Fujitsu, Gateway, HP, IBM, Lenovo, MSI, Samsung, Sony, Toshiba, and more. The company's free tip support ensures Innergie offers the widest laptop coverage available: it will provide compatible tips for free to any customer who cannot use the standard laptop tips that come packaged with the product.
With RTCA aviation certification, the mCube Mini, Slim and Lite are guaranteed for safe usage in-flight. Built-in multi-protections also ensure Innergie products are safe and eliminate worry about unstable voltage. Innergie's universal power adapters allow users to reduce their energy costs and their CO2 emissions.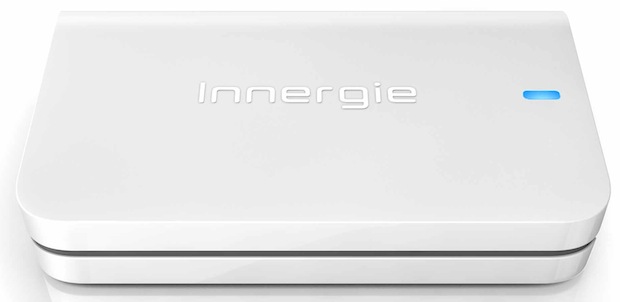 Innergie mCube Slim
Combining functionality with style, each Innergie product is designed to bring users the ultimate in convenience with uncompromised appeal. The company's lifestyle energy products help people stay connected by providing the power they need, wherever they are when they need it. Innergie's universal power adapters deliver mobility, convenience, high performance, reliability and premium value in a sleek package. Charging a wide variety of consumer electronic devices simultaneously, Innergie's all-in-one universal adapters eliminate the need to carry a different charger for every digital device.
Innergie products are available at Futuretronics retail stores, as well as online at www.myinnergie.com and on Amazon.com. Additional retail distribution is on tap for Q1 2010.
About Innergie
Innergie creates innovative lifestyle energy products for an ever-changing world. Founded in 2008, Innergie's technological superiority is backed by a team of professionals with more than 20 years' experience in the power supply industry. With its expertise in compact power technology, Innergie provides the world's smallest, most efficient universal power adapter and innovative power solutions. Innergie maintains operations in the United States, India, Romania, Singapore, Taiwan, Thailand and The Netherlands.