Photo: HP Mini 2102
The HP Mini 210 and HP Mini 2102 are ideal companion PCs for the consumer, business traveller or student, providing freedom and fun with more than nine hours of battery life plus optional 3G broadband connectivity and GPS in a slim and stylish design in multiple color options.
Starting at 2.69 pounds and measuring less than 1-inch thin, the HP Mini 210 is available in a choice of stylish Black Crystal, Silver Crystal, Pacific Blue or Sonoma Red HP Imprint finishes. The HP Mini 2102 offers users a sophisticated black design, which is also available for the Mini 210.
With a 10.1-inch diagonal standard or optional Brightview Infinity HD LED widescreen display and an island-style keyboard that is 92 percent the size of a standard notebook PC keyboard, the new HP Mini 210 and HP Mini 2102 are designed for consumers and business professionals who surf the web, check email, listen to music and need access to people or information while on the go. The PCs also have a built-in WLAN, webcam and microphone.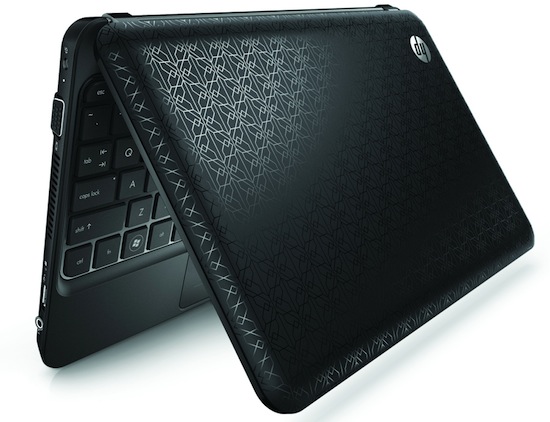 Photo: HP Mini 210
New software enhances the HP Mini 210 PC's multimedia experience and makes it even easier to access offline content and update files on the go, anytime and anywhere:
HP CloudDrive powered by ZumoDrive allows users to access their synchronized content — documents, photos and music — from the cloud, without having to store it on a local drive.
HP MediaStream allows users to stream multimedia content from one PC to another over the Internet, without requiring data to be downloaded.
HP QuickSync software, also available on the HP Mini 2102, automatically synchronizes files created or edited on the road with a home or business PC over a wireless connection when connected to the same network.
HP QuickWeb allows users to access the web without booting up the notebook by simply pushing a button. In seconds, users have a connection to the Internet and can access websites and other content that normally requires a standard browser, as well as photos, music and more.
In addition to viewing HD content on the Internet, users can experience their own personal multiplex via an optional Broadcom Crystal HD Enhanced Video Accelerator, which allows users to enjoy 1,080-pixel HD content.
The optional GPS software provides a seamless experience for use both inside and out. It includes the HP Navigator mapping application.
The HP Mini 210 and HP Mini 2102 support up to 1 gigabyte (GB) of memory and large hard drive options up to 320 GB, offering plenty of space to store movies, music, applications and files. A convenient, built-in VGA port allows users to connect to an external monitor, while a five-in-one digital media slot allows users to transfer files easily from various memory formats.
Powered by an Intel Atom processor N450 with 1.66 GHz, the HP Mini 210 and 2102 offer configure-to-order options on a number of features.
Pricing and availability
The HP Mini 210 is expected to be available in the United States tomorrow with a starting price of $299 for Windows 7.
The HP Mini 2102 is expected to be available in the United States tomorrow with a starting price of $329.