Targeted to Consumers who Connect their TV to a PC or Mac – Available for $99
Today, Hillcrest Labs launched its award-winning Loop™ pointer to be sold directly to consumers. The Loop pointer is a unique Freespace mouse that lets users control an on-screen cursor with the flick of wrist. The Loop pointer is designed to be used by the growing number of consumers who connect their PC or Mac to a TV.
According to data derived from a recent Consumer Electronics Association (CEA) report, there are now more than 7 million US households that have connected a personal computer to their home television sets1. With the Loop pointer, these consumers now have an engaging new way to search, browse, and navigate the Web or their home media content on TV.
The Loop pointer's distinctive design is round and ergonomic including just four buttons and a scroll wheel. Originally developed as a concept product to showcase Hillcrest Labs' Freespace in-air pointing and motion control technology, the Loop pointer is available to consumers for the first time for just $99.
"As our flagship Freespace product design, the Loop pointer has captured the imagination and interest of most people who have used it," said Dan Simpkins, CEO and founder of Hillcrest Labs. "Although today we are introducing our first product directly to the public, at our core, we remain a software and IP licensing company."
"Hillcrest Labs is recognized as one of the most innovative developers of motion control technology and graphical user interfaces for television," said Colin Dixon, principal analyst at the Diffusion Group. "Their new Loop pointer is a simple, elegant product whose unique design will make it a great conversation piece in the living room, dorm room, lecture hall, or board room."
Examples of Applications and Uses
To use the Loop pointer, consumers simply plug a small, USB 2.0 transceiver that comes with the device into a compatible computer or device. As with a conventional mouse, no special driver software is required for use on a PC or Mac. Device applications include:
Mouse for TV: For consumers who connect a PC-to-TV or Mac-to-TV, the Loop is an in-air pointer that offers the industry's highest performance. Users can relax comfortably on a couch, hold the Loop pointer in any position, and control their favorite online video sites, photo sites, music sites, and more. Using the standard on-screen keyboards that are included with the Windows or Mac operating systems, people can enter search terms, passwords, and more.
Presenters: Executives, professors or other PowerPoint™ users now have a far more useful and eye-catching tool for use with keynotes, company presentations, or lectures. The Loop pointer also makes it easy to switch between presentations, web pages and other applications, all while walking around the conference room or lecture hall.
The Loop pointer can also complement the following products:
KODAK Theatre HD Player: Owners of the highly acclaimed KODAK Theatre HD Player can use the Loop pointer as a fully functioning alternative controller to interact with pictures, videos and music, and more.
PS3™: The Loop pointer is not a game controller for PS3, but it can be used as a complementary device to navigate the Internet using the PS3's web browser.
Apple TV: While Apple TV does not support mouse controllers, consumers who use aTV Flash, from Fire Core (version 3.6), will be able to use the Loop pointer to navigate content on the device and the aTV Flash web browser.
Freespace Technology
The Loop pointer incorporates Hillcrest Labs' patented Freespace technology. Attributes of the Loop pointer that are made possible by Freespace technology include:
High Accuracy/Precision: The Loop is a highly precise pointer which allows users to point to individual pixels on a high-resolution screen.
Orientation Compensation: Regardless of the orientation of the device in space (e.g. pointing at the ground, turned sideways, etc.), Freespace generates intuitive cursor motions on the screen. MEMS (Micro-Electro-Mechanical Systems) sensors combined with Hillcrest's proprietary software enable consistent control of the device from any position – standing, sitting or reclining.
Adaptive Tremor Removal: Hillcrest's technology can distinguish between intentional and unintentional movement, including natural hand tremors. Instead of filtering out the entire range of human tremor, which would reduce the accuracy of the pointer, the Loop pointer dynamically measures each individual user's specific tremor and unintentional movements and removes them.
No Line-of-Site: Unlike conventional Infrared devices and optical motion-sensing devices that require "line-of-site" operation, the Loop pointer uses RF (radio frequency) technology, so users do not need to point directly at the computer or TV screen. This gives users greater freedom to move around at a range of up to 30 feet. It also means that the PC or Mac could be stored in a media cabinet while in use.
Freespace technology can also be licensed by companies as a complete hardware and software platform to create peripheral devices that accurately track motion with six degrees of freedom. Companies that have licensed Freespace for use in their products include: Eastman Kodak, Logitech, UEI, and ZillionTV. In addition, Hillcrest Labs licenses a broad set of intellectual property including more than 40 issued patents, out of more than 190 filed by the company.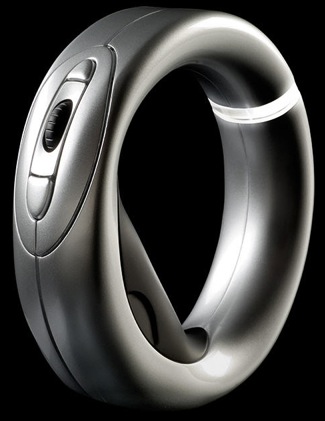 Loop Pointer Specifications
Diameter: 4.8 inches (approximately the size of a CD or DVD)
Width: 1.2 inches
Weight: 4.9 ounces
Color: Black with silver buttons
Connectivity: USB 2.0 antenna with built in RF (radio frequency transceiver)
Power supply: 2 AA batteries (included)
About Hillcrest Labs
Hillcrest Laboratories (a.k.a. Hillcrest Labs) sells an interactive media system for TV called HoME™, which enables consumer electronics manufacturers and service providers to create unique interactive digital media products for TV and other digital media devices. HoME Applications are controlled by pointing and provide consumers an intuitive way to browse, discover, and interact with large volumes of digital media. Hillcrest Labs' pointing technology, called Freespace, can be used in a wide range of consumer devices including remote controls, PC mice, and game controllers. The company also sells the Loop™ pointer – an iconic mouse replacement that lets users control a standard on-screen cursor with natural hand motions. HoME and Freespace have received numerous awards including the CES Innovations Award and Popular Mechanics' Editors Choice. Based in Rockville, Maryland, Hillcrest Labs was founded in 2001 by Dan Simpkins. The company is funded by AllianceBernstein, Columbia Capital, Grotech Ventures and NEA
1 – Source: Data derived from 2009 CEA study: "Net-Enabled Video: Early Adopters Only?"