Specialty Retailer Announces Back to s'Cool Got to Have Products
Long gone are the days when back to school shopping meant finding the most stylish pair of jeans or the neatest backpack. Today's crop of tween, teen and college age students represents America's most tech-savvy generation and expect to go back to school well-equipped for success with all the latest electronics and gadgets on the market.
A recent survey of the National Retail Federation estimates back to school spending on high-tech products will increase to $12.7 billion.
With interest in these products among school age consumers clearly on the rise, The Sharper Image Corporation (NASDAQ:SHRP), known for selling the most cutting-edge products, has introduced its Back to s'Cool product collection, offering a range of state-of-the-art supplies designed to make campus life a cinch.
"Heading back to school is much easier when you have the right tools for success," stated Drew Reich, Executive Vice President of Merchandising for The Sharper Image. "Our Back to s'Cool collection features high-quality, high-tech products that students want."
The Sharper Image Back to s'Cool collection features the latest incarnations of everything from electric shavers and cameras to translating machines, tooth brushes, alarm clocks, desk lamps and mini-refrigerators.
Those heading for college in a new town will be able to find their way around easily with the TomTom ONE GPA Portable Navigation System ($299.95), a plug-and-go portable touch-screen GPS with 3D and 2D graphic directions and turn-by-turn voice guidance. Built-in Bluetooth 2.0 technology is ready to handle optional TomTom PLUS subscription services such as real-time traffic and weather information.
Ideal for relieving stress associated with studying are the Sharper Image Shiatsu Massage Cushion ($149.95) and the Sharper Image Contour-Foam™ Neck-Support Pillow ($49.95). The first features an invigorating dual massage mechanism, with a wired controller for selecting up to six programs. The other is an ergonomic "natural curve" sleep pillow ideal for providing proper neck support to facilitate breathing and to ease painful stress on cervical vertebrae.
"Technology has become such an integral part of our everyday lives beginning at a very young age kicking up demand for these types of products," added Reich. "We believe this trend will continue, making technologically advanced products just as fundamental to back to school shopping as binders, papers and pencils once were."
For students who might be a little homesick or need some of the comforts of home, The Sharper Image has several products to satisfy. The Bean Vac™ Coffee Canister ($39.95) automatically vacuum seals more than a pound of coffee in whole bean or ground form locking in freshness better than any other storage method. It's also great for storing cookies, nuts, spices, tea and chocolates. The Sharper Image FresherLonger™ Miracle Food Storage ($24.95) cuts down on the furry green stuff with the most amazing advance in food storage since the refrigerator. The FresherLonger™ silicone-gasket locking lids and specially treated polypropylene keep food fresher for days longer than ordinary containers. There's even the Sharper Image Hot+Cold™ Mini Fridge ($99.95) for the most versatile food storage – either hot or cold. It works without any liquid refrigerants, noisy motors or messy condensation and fits discreetly into homes, offices and dorm rooms.
For keeping loved ones within view, the Pure eMotion 7-Inch Digital Photo Frame ($79.95) is ideal with its 480×234 high-resolution, anti-glare active TFT color LCD screen in 16:9 aspect ratio. A built-in card slot reads SD, MMC, MMSPRO, SM, MS, CF and xD media; also supports Motion JPEG and features automatic slide show feature.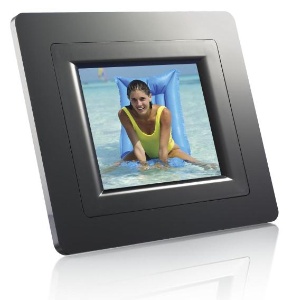 Looking good is key to all-around success at school, so keeping a healthy mouth and body is next on the agenda. The Philips Sonicare Elite 9500 ($119.95) features a unique custom care system for individualized brushing at two speeds and varying brush attachments. The Sharper Image Mini Step & Flex ($79.95) is high-quality yet compact enough to hide in a closet or under a bed. Dual elastic resistance cords trim and tone arm and chest muscles, and a built-in computer displays strides, strides per minute and estimated calories burned.
Young men looking to keep a clean-cut look while school is in session will want one of two exclusive shavers — the Axis Air™ Foil Electric Shaver ($129.95) and the Axis™ Orbit 4000 Rotary Electric Shaver ($99.95). The first offers the world's most advanced foil cutting system; the other features dual floating rotary blades and an ergonomic design for maximum control. Both provide a full week of cordless shaving on a single charge; one-hour quick recharge, and travel case.
Ladies will appreciate the Sharper Image Compact Lighted Vanity 7x Mirror ($49.95), which provides bright shadow-free illumination, distortion-free optics and handsfree convenience in a lightweight, portable unit with travel pouch. Or the Sharper Image Ionic Conditioning Quiet Hair Dryer ($39.95) which features 1,875 watts and patent-pending Ionic Conditioning technology that leaves hair consistently softer, fuller and silkier looking, with less frizz. This low-noise product is ideal for dorm settings.
Breathing clean, healthy air is sometimes difficult in musty dorm rooms, but the Sharper Image TABLETOP Silent Air Purifier with Ionic Breeze Silent Electronic Propulsion ($149.95) solves the problem. It features an improved 3+2 five-blade configuration and its tabletop design is ideal for smaller spaces. A removable front grill features OzoneGuard™ with PremAir catalyst to convert by-product ozone to oxygen, uses no more than 8 watts and has no filters to replace.
And what is student life without parties? Two new products designed to ensure downtime gatherings are never boring include the Parrot Bluetooth 2.1 Wireless Boombox ($259.95) which plays music without wires from any phone, laptop, MP3 player or other device featuring the Bluetooth Stereo profile and accepts analog audio devices like CD players. And the Sharper Image iBeam™ Stereo with AM/FM & Universal Dock for iPod ($149.95) features the iBeam™ Speaker System with SRS WOW technology to significantly enrich the audio quality. An integrated Universal Dock charges and plays any dockable iPod model. It also features a digital AM/FM tuner with 12 station presets, and a backlit LCD screen.

Capturing the college experience will be such a pleasure with the Casio Exilim™ EX-S770 7.2MP Camera ($299.95), a super-slim camera with 7.2 mega pixels, a super-bright 2.8-inch LCD; 3x optical and 4x digital zoom; Anti-Shake technology; built-in flash (with Soft Flash and red-eye reduction); and auto focus. It even records MPEG-4 movies with sound. The Lingo 5-Language Talking Translator ($99.95) is a pocketsize talking interpreter that translates, displays and correctly pronounces over 100,000 words and 10,000 typical phrases in 5 languages. Plus it has a metric and currency converter, international clothing/shoe size converter, and a 200-city world time clock with alarm.
And when it's time to study or making it to class on time is a must, students can rely on The Sharper Image Bright As Day Power-Port Desk Lamp ($99.95) which provides bright Daylight Spectrum™ light from its 27W, 6,000-hour fluorescent bulb and has two grounded AC outlets and one USB power port for powering workstation devices (fan; sharpener; shredder; photo display) or charging a cell, PDA or other personal accessory. When making it to class on time is an absolute necessity, The Sharper Image Dual-Time Travel Alarm Clock ($19.95) is a convenient, lightweight travel and desktop alarm clock that displays both local time and time in one other zone.
About Sharper Image
The Sharper Image is a specialty retailer that is nationally and internationally renowned as a leading source of new, innovative, high-quality products that make life better and more enjoyable. The Company's principal selling channels include 186 Sharper Image specialty stores throughout the United States; the award-winning Sharper Image monthly catalog; and its primary Web site, http://www.sharperimage.com. The Company also has business-to-business sales teams for marketing its exclusive and proprietary products for corporate incentive and reward programs and wholesale to selected U.S. and international retailers.