Genius today introduced the MousePen M508W, a 5-inch x 8-inch wireless graphic-design tablet, the MousePen M508W uses 2.4GHz wireless technology and connects to notebooks and computers via a USB receiver, giving you wide-ranging freedom to move around without any interference. With exceptional value for money, this high-performance tablet is perfect for art teachers, students, and graphic-design professionals, and gives them wireless freedom to paint, draw, write, and edit.
The high-performance stylus is tilt sensitive ±60 degrees and has 1024 pressure levels, making brush strokes thicker or thinner depending on how hard the stylus is pressed, mimicking traditional painting. Perfectly suited for graphic-design professionals, MousePen M508W gives you the same experience as if you were using paint and canvas. As a mouse, the left button is a simple push down with a right-click button and scroll button near the tip along the side. The stylus moves across the 4000 LPI high-resolution contact area as if the screen and tablet were the same, making operation smooth and accurate. You can switch between the 5″ x 8″ contact area to a 4:3 wide screen contact area, if desired.
The Genius MousePen M508W tablet has four express keys (Desktop, Flip 3D, Page Up, Page Down) for easy navigating as well as an LED power and low-battery indicator. It also has thirteen programmable hot cells for customized Office and Internet shortcuts along the top of the contact area. There is a clip to store the stylus, making it easy to take the MousePen M508W with you. A wireless mouse comes with right, left, and scroll-wheel buttons and connects via the USB receiver.
The Genius MousePen M508W includes the following programs (for Windows only):
Annotate for Word — Allows you to hand write notes, highlight and annotate documents in Microsoft Word.
Pen Notice — Allows you to touch up pictures, put in annotations, or insert text when doing a presentation, sending email, or editing pictures.
Pen Commander — Allows you to draw command symbols directly on the digital pen tablet so you can execute commands or open files instantly.
Pen Mail — Allows you to send hand-written emails with your own signature.
Pen Signer — Allows you to insert signatures or hand drawn graphics into a document.
Trial versions of Adobe Photoshop Extended and Corel Painter are also included as well as two spare stylus tips and an easy-to-use tip-changing tool. Three AAA and two AA alkaline batteries are included so that the tablet, stylus, and mouse can be used right out of the box.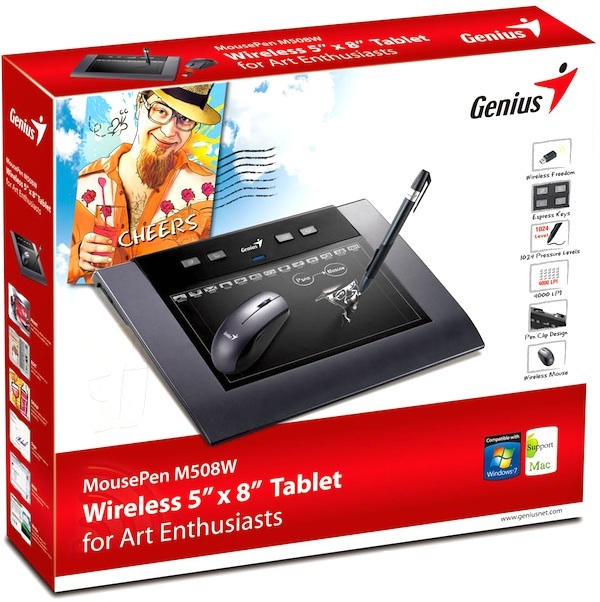 System Requirements
Windows 7/Vista/XP or Mac OSX 10.4 or above
CD/DVD ROM drive
At least 64MB of RAM
At least 12MB hard disk space
IBM PC Pentium 233 compatible or higher
One USB port
Product Highlights
2.4GHz RF wireless connectivity
Wide 5″ x 8″ high-resolution contact area
Four hot keys and 13 programmable shortcuts
Tilt sensitive stylus with 1024 pressure levels
Wireless mouse included plus lots of software
Price and Availability
The Genius MousePen M508W is available now $149.