epson,Epson today announced three new color printers for small offices, the WorkForce Pro WP-4540 and WorkForce Pro WP-4530 all-in-ones and WorkForce Pro WP-4020 ink jet printer. The WorkForce Pro series delivers ink cost savings of up to 50 percent compared to color lasers, while providing the world's fastest auto two-sided print speeds, efficient and hassle-free paper handling and all-new extra-large ink cartridges to ensure small businesses are always running at full speed.
High Speed Printing with Low Running Costs
The robust feature set included in both the WorkForce Pro WP-4540 (pictured top) and WorkForce Pro WP-4530 make the all-in-ones ideal printing solutions for high-print volume, multi-tasking businesses that require maximum speed and flexibility. Both printers deliver high performance and productivity features including blazingly fast single- and double-sided print speeds — 16 ISO ppm black and 11 ISO ppm color single-sided; 9.2 ISO ppm black and 7.1 ISO ppm color two-sided. Business users will also benefit from Epson's new extra large ink capacity cartridges, capable of printing up to 2,400 pages black; 1,200 pages color as well as a robust monthly duty cycle of up to 20,000 pages.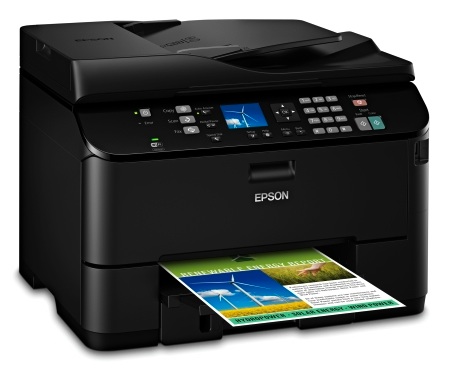 WP-4530 All-in-One
Additional productivity features for the WorkForce Pro (WP-4540/4530) all-in-ones include:
Built-in 30-page automatic document feeder to copy, fax and scan two-sided originals
Easy-to-use copy features
PC-Fax for direct fax from computer
Scan-to-PDF — for archiving documents and images digitally
Upload files straight to a PC via printer's USB port
Built-in Wi-Fi n networking
WorkForce Pro All-in-One Robust Paper Handling and Navigation
The WorkForce Pro WP-4540 includes an unprecedented 580-sheet input capacity — not only the highest paper capacity in its class but it also lends itself to a hassle-free experience as users won't have to load paper as often and will be able to accommodate up to 80 specialty sheets. The WorkForce Pro WP-4540 also offers quick and easy navigation with a 5.8″ touch panel and 3.5″ LCD screen to quickly access all printer functions. The WorkForce Pro WP-4530 boasts a 330-sheet capacity with rear feed tray for up various media types.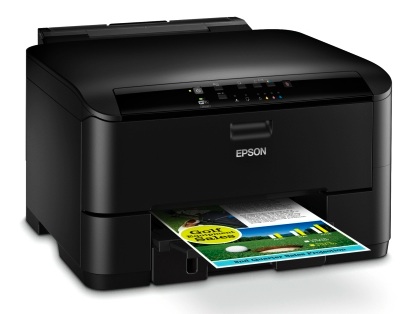 WP-4020
Epson WorkForce Pro WP-4020 Inkjet Printer
The WorkForce Pro WP-4020 printer delivers fast single- and double-sided print speeds — 16 ISO ppm black and 11 ISO ppm color single-sided; 9.2 ISO ppm black and 7.1 ISO ppm color two-sided. Packaged in a sleek industrial design, it also includes a 330-sheet input capacity, and provides a reliable solution to small business owners that require professional looking prints in high volume.
Epson Connect and Printing On-the-Go
The Epson WorkForce Pro series also comes equipped with Epson Connect, a new portfolio of cloud and mobile services enabling mobile users to print documents and photos directly to their Epson printers from a mobile device. Epson Connect offers two solutions — Email Print and Epson iPrint. Email Print allows customers to print out e-mail and file attachments by simply sending an e-mail from their smartphone or other mobile device to an enabled Epson printer. The Epson iPrint application, for the latest iOS- and Android-based devices, allows customers to print a wide range of content such as photos, documents and web pages by simply downloading the Epson iPrint application and connecting to a Wi-Fi enabled printer.
Pricing (Available September 2011):
Epson WorkForce Pro WP-4540 → $399.99
Epson WorkForce Pro WP-4530 → $299.99
Epson WorkForce Pro WP-4020 → $179.99
See more about: Printers, Epson