enTourage Systems, Inc. just announced the enTourage eDGe™, the world's first dualbook™ that combines the functionalities of an e-reader, tablet netbook, note pad and audio/video player and recorder into one, sleek solution.
The enTourage eDGe is a dual-screen, WiFi-enabled electronic device that merges an e-paper screen with an LCD screen for enhanced interactivity. The left side is comprised of a 9.7″ diagonal e-paper display, where users can easily read e-books in PDF and EPUB format, draw diagrams and take notes. The right side of the product is a 10.1″ diagonal LCD screen for easy Web surfing, email and instant message composition and sending and video watching. This screen also includes a virtual keyboard for convenient typing. These two screens work uniquely together to make content more interactive, such as pulling up pages and images from the e-paper screen in color on the LCD, opening up video links from textbooks or dragging and dropping terms and names from the e-book into a Web browser to easily search for additional information.
enTourage Systems is building its own e-book store, which has access to over 200,000 trade books and more than one million free public domain books digitized by Google, as well as to many popular magazines, newspapers and periodicals. This includes popular higher education e-textbooks in a variety of subjects from publishers such as McGraw Hill and John Wiley & Sons, as well as content frequently adopted by professors for course use from Oxford University Press.
"By collaborating with enTourage Systems, McGraw-Hill will be able to increase the reach of its digital content and deliver an innovative learning solution that empowers students to achieve academic success."
"The enTourage eDGe is an industry-changing product, breathing new life into content by making e-books more digitally enhanced and interactive, while also offering capabilities of other leading devices in a single platform," said Asghar Mostafa, CEO and president of enTourage Systems, Inc. "Partnering with McGraw Hill, Oxford University Press and John Wiley & Sons allows us to make the enTourage eDGe an even more powerful educational tool, creating a new-age learning experience for students."
"Today's students increasingly require advanced digital access and capabilities," said Ed Stanford, president, McGraw-Hill Higher Education. "By collaborating with enTourage Systems, McGraw-Hill will be able to increase the reach of its digital content and deliver an innovative learning solution that empowers students to achieve academic success."
"We're thrilled to partner with enTourage Systems to deliver additional material that will bring high educational value to enTourage eDGe users," said Colleen Scollans, vice president of sales and marketing at Oxford University Press. "This is a device that will revolutionize the classroom, and we are excited to be a fundamental part of pushing that forward."
"The enTourage eDGe has the potential to make a significant impact on the way college students use learning materials," said Lisa Culhane, director, program and channel development at Wiley. "As a portable e-textbook with interactive tools that enable note taking, diagram-drawing, and mobile Internet access, it represents a unique entry to the e-textbook market. We look forward to working with enTourage Systems as they launch this innovative platform."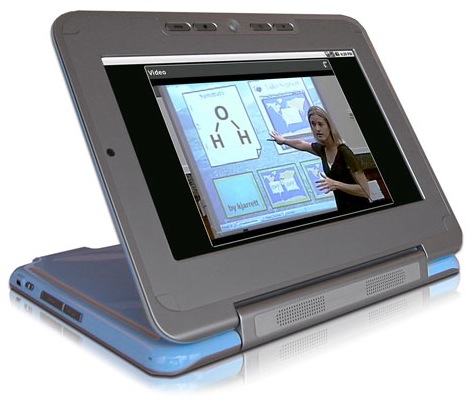 The enTourage eDGe includes a built-in noise-cancelling microphone and 1.3-mega-pixel camera to easily capture audio and video content, perfect for classroom lectures or taking down meeting minutes. The microphone can pick up audio from up to 30 feet away and stores the files in MP3 format. The product also runs on the Android operating system, making it easily customizable for each user.
With the enTourage eDGe, consumers also get a complete eco-system to complement their user experience. enTourage Systems backs up all material directly to its servers, ensuring user documents are never inaccessible if a unit gets damaged or goes missing. This also includes the e-book store enTourage Systems is building from scratch, giving the company the ability to answer to consumer demands of what content they'd most like to see. To complement the user experience, enTourage eDGe users can also easily share files between devices.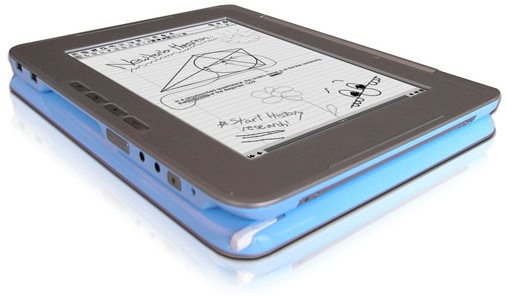 The enTourage eDGe also comes with a battery with advanced power saving modes to stay powered longer, with a minimum of six hours utilizing the LCD screen and over seven days if simply accessing the e-reader. The product was also designed with portability in mind, folding a full 360 degrees with ability to orient its displays horizontally or vertically, so a user can hold the enTourage eDGe as a book, single screen or prop it up like a laptop. This feature is also useful to orient the screens most comfortably whether the user is right- or left-handed. The enTourage eDGe is one of the first consumer electronics to use Marvell Smart technology, allowing for increased performance on a mobile device.
The enTourage eDGe is available for pre-orders now, and will be fully available in February 2010 online for $490.
About enTourage Systems, Inc.
enTourage Systems, Inc. is a provider of a new interactive dualbook that improves the way we learn, do business and entertain. The company's flagship product, the enTourage eDGe, is a comprehensive tablet netbook, notepad, e-reader, video player and audio recorder that allows users to easily manage their digital needs from a central device. enTourage Systems, Inc. is headquartered in McLean, VA.