Canon Expands Its Award-Winning Photo All-in-One Printer Line With Three New Models That Offer Outstanding Image Quality and Ease-of-Use in a Stylish Package
Canon U.S.A., Inc. has combined breakthrough printing, scanning and copying technologies with quality, speed and ease-of-use features, putting them all into sleek and sophisticated packages to deliver three new photo All-in-One (AIO) printers – the Canon PIXMA MP970, MP610 and MP520 Photo All-in-One Printers.
These quality rich features have been designed in the most elegant packages to fit into modern home or office decors, while even saving space in a dorm room. New and returning Canon printing, scanning and copy technologies provide users with a home photo lab that produces outstanding image quality, while also being easy to use.
Auto Image Fix, Advanced Copy Technology, Easy-Scroll Wheel, Quick Start, and two-way paper feeding are just some of the new and existing technologies incorporated into the three Canon AIO photo printers, helping to increase output quality while making the printers easier to use. Aimed at photo enthusiasts and hobbyists, as well as families printing pictures and homework assignments, the PIXMA MP970, MP610 and MP520 Photo AIO Printers will join Canon's single function printers and office AIO printers to deliver exceptional, long-lasting images.
"Our objectives are to provide high-quality printers with technology and features that will help consumers get the most from their printing experiences," said Yuichi Ishizuka, senior vice president and general manager, Consumer Imaging Group, Canon U.S.A. "Built on exclusive Canon technology, these printers will make great additions to anyone's personal photo lab, as well as delivering the quality output demanded by home office users."
CANON PIXMA MP970 PHOTO ALL-IN-ONE PRINTER (above)
The flagship model in the line, the PIXMA MP970 Photo AIO Printer has a maximum 9600 x 2400 color dots-per-inch resolution1 with seven individual ink tanks for premium quality and long lasting prints (prints can last up to 100 years in an archival quality album)2. Its bright, high-definition 3.5-inch TFT screen combined with the Easy-Scroll Wheel interface help to assure consumers a user-friendly and engaging experience with each project. With double-sided printing as a standard feature and Ethernet network capability built-in, the MP970 Photo All-in-One is a truly versatile printing powerhouse.
Waiting a long time for start-up will be a thing of the past thanks to the Canon Quick Start feature that allows the user to start using the AIO in a matter of seconds. Now users can press the power button and watch their printer start up almost immediately, without a long delay between pressing the power button and actually seeing the user interface on the screen. These latest PIXMA models make sure that the entire photo printing process, from editing to printing, is easier with Auto Image Fix, a feature that automatically analyzes and categorizes the scenes in photographs and optimizes each individual scene in accordance with the scene type, such as Portrait, Scenery, Snapshot, etc. In these latest models, Auto Image Fix works directly from a connected digital camera or through compatible memory cards3, which translates into a seamless process for the user without even connecting to a computer.
The MP970 scanning feature, with its built-in Film Adapter Unit, has an extremely high 4800 x 9600 dpi optical resolution allowing users to scan old slides, negatives and prints to add to their digital library. Imagine a high-quality scanner that requires virtually no warm-up time for the light source. The PIXMA MP970 Photo AIO will be the first Canon AIO to adopt a White LED as its light source, which means a user looking to scan a shoebox full of prints or even a quick office document will not need to endure the long wait often associated with a traditional scanner warming up.4
The MP970 copy function features new, easy-to-use Advanced Copy Technology. Now many of the most common copy adjustments can be made right from the AIO. This copy technology allows users to easily erase the frame created around a small scan, trim any desired area on the original to be copied, and even white-out an unwanted area of the original before copying it- all right from the control panel. The estimated selling price for the PIXMA MP970 Photo AIO printer is $299.99.5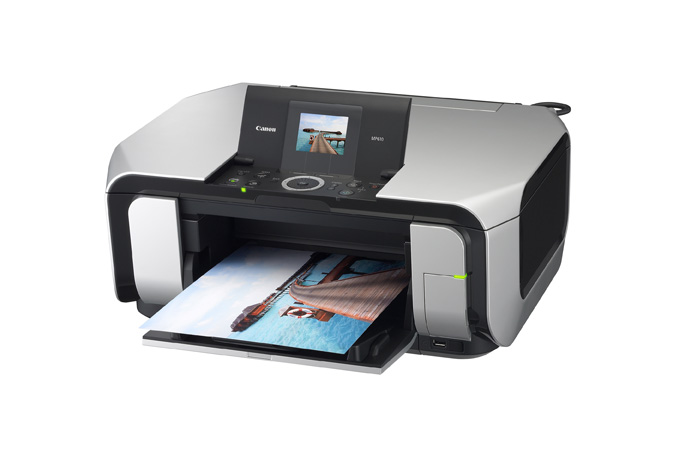 CANON PIXMA MP610 PHOTO ALL-IN-ONE PRINTER (above)
The MP610 AIO Photo Printer delivers high-quality photo prints by using up to 9600 x 2400 color dpi resolution1 and five individual ink tanks for long-lasting beautiful prints (prints can last up-to 100 years in an archival quality album)2. The 2.5-inch TFT high definition screen displays images from a digital camera's memory card in the built-in card reader3 and it has a wide viewing angle so you do not need to be right in front of the printer. The elegantly designed PIXMA MP610 Photo AIO Printer blazes through a 4-inch x 6-inch photo lab quality borderless print at a speed of approximately 21 seconds6. With Auto Image Fix, Quick Start, Duplex printing, and Advanced Copy Technology also built in, the MP610 Photo All-in-One brings a new level of convenience and quality to photo printing at this price point. The PIXMA MP610 Photo AIO will be available at an estimated selling price of $199.99.5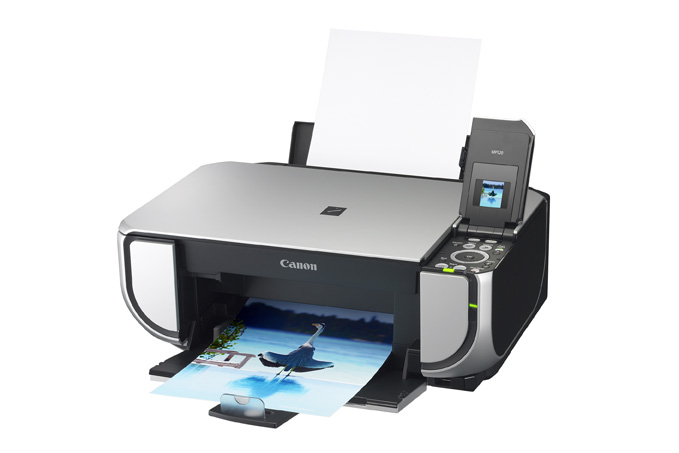 CANON PIXMA MP520 PHOTO ALL-IN-ONE PHOTO PRINTER (above)
Aimed at the back-to-school market, the PIXMA MP520 Photo AIO Printer includes many of the same technology and ease-of-use features that the MP970 and MP610 have mastered. Ease-of-use features like Easy-Scroll Wheel and dual paper paths and technology such as Auto Image Fix will be big hits with this segment because the quality remains exceptional, while still being very user friendly. Color resolution is a maximum of 4800 x 1200 color dpi7 and four individual ink tanks also help keep this printer in the value category for any college student or parent. The estimated selling price of the PIXMA MP520 Photo AIO printer is $149.99.5
Advanced Easy-Scroll Wheel
The Easy-Scroll Wheel user interface will be very familiar to consumers who have popular portable digital music players, helping them quickly understand the operations that this wheel controls, including editing, copying, printing and scanning options. What's more, Canon has improved the "HOME" and "NAVI" buttons on these devices' operational panels. When consumers push the NAVI button, it not only displays the machine's on-screen guide, but it even navigates the user to the function they desire. The HOME button allows users to return to the main menu, regardless of where they are in the sub-menus, assuring users that home is always just a click away. By improving the Easy-Scroll Wheel, HOME and NAVI buttons, Canon has been able to simplify the printing process, and reduce the number of total buttons by approximately half, making operation much easier.
ChromaLife100 System
The PIXMA MP970, MP610, and MP520 Photo All-In-One printers employ the Canon ChromaLife100 system, including FINE print head technology, for long-lasting photo prints. When using select genuine Canon photo papers and inks, prints can resist fading for up to 100 years when stored in an archival quality photo album. The 100-year-lifespan rivals that of many traditional film-based photos, long considered by consumers to be the benchmark for image permanence. Prints produced on Canon Photo Paper Pro with ChromaLife100 have up to a ten-year gas fastness when exposed to open air. ChromaLife100 prints, when created using Canon Photo Paper Pro or Photo Paper Plus Glossy, have up to a 30-year light fastness when displayed under glass.2
Creative Park/Easy-PhotoPrint EX
More than ever, consumers are diving into digital scrapbooking, photo albums, calendars and crafting projects. Canon's Creative Park Web site at www.canon.com/c-park offers 3-D paper craft projects, scrapbooking templates, novel greeting cards, educational materials, and the opportunity to learn more about digital photography. Easy-PhotoPrint EX photo printing software is included with all three printers and makes printing multiple size prints on a variety of Canon papers a snap. Other features such as cropping, increasing saturation and correcting red eye are also included to allow the user to make corrections to images without having to use additional software. With the newly updated Easy-LayoutPrint application, consumers can even produce beautiful photo calendars, albums, and stickers, with little to no hassle.
About Canon U.S.A., Inc.
Canon U.S.A., Inc. delivers consumer, business-to-business, and industrial imaging solutions. The Company is listed as one of Fortune's Most Admired Companies in America and is on the 2006 BusinessWeek list of "Top 100 Brands." Its parent company, Canon Inc. (NYSE:CAJ), is a top patent holder of technology, ranking third overall in the U.S. in 2006i, with global revenues of $34.9 billion.
Specifications are subject to change without notice.
Resolution may vary based on printer driver settings. Color ink droplets can be placed with a horizontal pitch of 1/9600 inch at minimum.
Based on accelerated testing by Canon under controlled temperature, humidity, and gas conditions. For the 100-year figure, Canon simulated storage in an album with plastic sleeves. For the 30-year lightfastness figure, Canon simulated display of a photo in a glass frame in an indoor location without direct sunlight or other high-intensity light. The 10-year gas fastness figure is based on a testing ratio of gases typical to an indoor air composition (O3: NOx:SOx=3:19:1) with 100 times concentration in order to accelerate color fading. Canon cannot guarantee the longevity of prints; results may vary depending on printed image, drying time, display/storage conditions and environmental factors. See www.consumer.usa.canon.com/ChromaLife100 for additional details.
Compatible memory cards include CompactFlash, Microdrive , Memory Stick, Memory Stick Pro, SD Card and Multimedia card, xD-Picture Card, Memory Stick Duo, Memory Stick PRO Duo and MiniSD cards require an additional adaptor, which must be purchased separately. SDHC Card, RS-MMC, and microSD Card are also supported.
The time required for the light source to reach sufficient operating temperature. Film scanning excluded.
Pricing subject to change at any time. Actual prices are determined by individual dealers and may vary.
Photo print speeds are based on the default mode driver setting using photo test pattern(s) and select Canon Photo Paper. Print speed measured as soon as first page begins to feed into printer and will vary depending on system configuration, interface, software, document complexity, print mode, types of paper used and page coverage. See www.usa.canon.com/printspeed for additional information.
Resolutions may vary based on printer driver settings. Color ink droplets can be placed with a horizontal pitch of 1/4800 inch at minimum.
i IFI Patent Intelligence, January 2007