Designed with style and packed with performance, the Canon PIXMA MP470 and MP210 Photo All-In-One (AIO) printers announced today by Canon U.S.A., Inc., deliver new ease-of-use and printing technology, boast approximately 46-second 4″ x 6″ borderless photo printing speeds,1 and offer functionality in a stylish, compact package. Perfect for the dorm room or home office, both models provide printing, scanning and copying features and require the same amount of desktop space that many single function printers occupy.
Adding to the current line of cutting-edge Canon All-In-One Printers, both the PIXMA MP470 and PIXMA MP210 Photo AIOs will be the first products to utilize the new "AutoImage Fix" and "Quick Start" features. AutoImage Fix includes a function that automatically analyzes and categorizes the scenes in photographs to ensure that each individual scene is optimized in accordance with the scene types such as Portrait, Scenery, Snapshot etc.- These latest AIO's make sure that the entire photo printing process from editing to printing is easier.
Waiting a long time for start-up will be a thing of the past thanks to the Canon Quick Start feature that allows the user to start using the AIO in a matter of seconds. Now users can press the power button and watch their AIO fire up almost immediately, without long delays between pressing the power button and actually seeing the user interface on the screen. Running late for class and needing to make one more copy will not be an issue with either of these new printers. Just hit the power button and you will be ready to operate in no time.
"All-In-One Printers have been on the rise for more than a year," said Yuichi Ishizuka, senior vice president and general manager, Consumer Imaging Group, Canon U.S.A. "Having a small machine that can copy, print and scan for student projects, photo albums, home scrap-booking or crafting is very desirable. Canon's aim with these printers is to raise the bar for performance, design and ease-of-use, while still maintaining a value price point."
CANON MP470 PHOTO ALL-IN-ONE PRINTER
Consumers interested in printing beautiful photos will enjoy the 1.8″ flip-up LCD panel, as well as the two-cartridge, four-color printing system. With a minimum two-picoliter droplet size and up to 4800 x 1200 dpi color resolution2 and text print speeds of up to 22 ppm in black and up to 17 ppm in color1, this printer will continue to strengthen Canon's reputation for building high quality and fast multifunction printers. The LCD panel is especially helpful for users printing directly from compatible memory cards3 because it allows them to view and choose the pictures to print right on the screen. The MP470 Photo All-In-One will also feature direct photo printing capabilities, a high-speed USB 2.0 connection, memory card slots, PictBridge connection and an optional Bluetooth wireless connection.4 The estimated selling price for the PIXMA MP470 Photo All-In-One is $99.995, and the BU-20 Bluetooth adapter has an estimated selling price of $49.99.5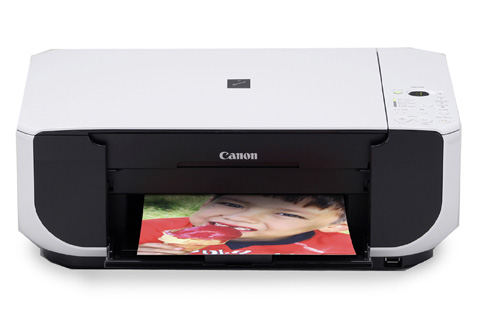 CANON MP210 PHOTO ALL-IN-ONE PRINTER
Aimed at the college student and home photo printing customer, the PIXMA MP210 Photo All-In-One features a maximum of 4800 x 1200 dpi color resolution2, and a minimum two-picoliter droplet size to deliver outstanding photo quality. Text printing speeds are up to 22 pages per minute (ppm) for black and up to 17 ppm for color1, providing users with high speed to go along with high quality. Additional features include the Advanced Z-Lid expansion top to help scan bulkier items and high-speed USB 2.0 and PictBridge connections. The Advanced Z-Lid expansion top allows the user to place large notebooks or materials for scanning on the platen glass and holds them down for a more clear copy or scan. The estimated selling price for the Canon MP210 Photo All-In-One is $79.99.5
ChromaLife 100 System
The PIXMA MP470 and MP210 Photo All-In-One printers use the Canon's ChromaLife100 system, along with FINE print head technology for long-lasting photo prints. When using select genuine Canon photo papers, prints can resist fading for up to 100 years when stored in an archival quality photo album. The 100-year-lifespan rivals that of many traditional film-based photos, long considered by consumers to be the benchmark for image permanence. Prints produced on Canon Photo Paper Pro with ChromaLife100 have up to a ten-year gas fastness when exposed to open air. ChromaLife100 prints when created using Canon Photo Paper Pro or Photo Paper Plus Glossy, have up to a 30-year light fastness when displayed under glass.6
Full-photolithography Inkjet Nozzle Engineering (FINE)
Launched globally by Canon in 1999, the Canon FINE advanced print head technology is one of the keys to the impressive speed and high photo quality in PIXMA photo all-in-one printers. FINE technology uses a ground-breaking high-performance multi-nozzle print engine that ejects consistent and microscopic ink droplets. The results are high-resolution photos with great detail and clarity in less time.
About Canon U.S.A., Inc.
Canon U.S.A., Inc. delivers consumer, business-to-business, and industrial imaging solutions. The Company is listed as one of Fortune's Most Admired Companies in America and is on the 2006 BusinessWeek list of "Top 100 Brands." Its parent company, Canon Inc. (NYSE:CAJ), is a top patent holder of technology, ranking third overall in the U.S. in 2006†, with global revenues of $34.9 billion. To keep apprised of the latest news from Canon U.S.A., sign up for the Company's RSS news feed by visiting www.usa.canon.com/pressroom.
# # #
Specifications are subject to change without notice.
1 Photo print speeds are based on the default mode driver setting using photo test pattern(s) and select Canon Photo Paper. Print speed measured as soon as first page begins to feed into printer and will vary depending on system configuration, interface, software, document complexity, print mode, types of paper used and page coverage. ( No mention of CPM), document complexity, print mode, types of paper used and page coverage. See www.usa.canon.com/printspeed for additional information.
2 Resolutions may vary based on printer driver settings. Color ink droplets can be placed with a horizontal pitch of 1/4800 inch at minimum.
3 Compatible memory cards include CompactFlash, Microdrive, ,(no longer supported) Memory Stick, Memory Stick Pro, SD Card and Multimedia card. xD-Picture Card, Memory Stick Duo, Memory Stick Duo Pro(PRO Duo) and MiniSD cards require an additional adaptor, which must be purchased separately. SDHC Card and microSD Card are also supported. And the note "Can be used with the addition of a special adapter sold separately. is needed to certain places. Please refer to the Direct Spec sheet.
4 Bluetooth v1.2 with optional Canon Bluetooth Unit BU-20. Bluetooth operation depends on the devices and software version used. Operating distance is approximately 10 meters but may vary due to obstacles, radio signals, locations where radio interference occurs, magnetic fields from microwave ovens, device sensitivity and/or antenna performance.
5 Pricing subject to change at any time. Actual prices are determined by individual dealers and may vary
6 Based on accelerated testing by Canon under controlled temperature, humidity, and gas conditions. For the 100 year figure, Canon simulated storage in an album with plastic sleeves. For the 30 year lightfastness figure, Canon simulated display of a photo in a glass frame in an indoor location without direct sunlight or other high intensity light. The 10 year gas fastness figure is based on a testing ratio of gases typical to an indoor air composition (O3: NOx:SOx=3:19:1) with 100 times concentration in order to accelerate color fading. Canon cannot guarantee the longevity of prints; results may vary depending on printed image, drying time, display/storage conditions and environmental factors. See www.consumer.usa.canon.com/ChromaLife100 for additional details.
† IFI Patent Intelligence, January 11, 2007
Download the spec sheet (pdf)