PT-90
New 'Simply Stylish' Line of P-Touch Labelers Offer a Deco Mode for Printing Extra Sylish Labels
Brother International Corporation has created a series of "Simply Stylish" P-Touch labelers that allow users to get more creative and distinctive with their labeling. All three easy-to-use labelers in the Simply Stylish line – the PT-90, PT-1090 and PT-1290 – have multiple "Deco Mode" label formatting options, type styles and symbols that are ideal for enhanced personal, family and home office labeling needs. And, when coupled with more than 20 colorful tape options, including four new colors – Berry Pink, Lime Green, Satin Gold and Satin Silver** – users have even more options for customization and creativity.
The new Simply Stylish line of labelers offer great features such as framing options, decorative and functional symbols, two-line printing, and the ability to print both vertical and horizontally. Specific models also offer additional features such as interchangeable faceplates, automated time and date labels, and a feature for easily labeling cable and wires.
"Brother offers an array of P-Touch models to help consumers become more organized, but the Simply Stylish line breaks the mold of traditional labeling with its innovative new Deco Mode formatting," said Brother's Director of Marketing for Electronic Stationery Products, Linda Sanford. "Our new Deco Mode feature helps customers create decorative labels that can be customized for a personal and creative touch. The 'Simply Stylish' line will no doubt spur additional uses for labels, as they are designed to stand out and be noticed."
The PT-90 is best suited for personal users, the PT-1090 is great for families and the PT-1290 is geared toward home office users.
PT-1290
The P-Touch Simply Stylish line includes three labelers, each designed with specific features to reach their target customers: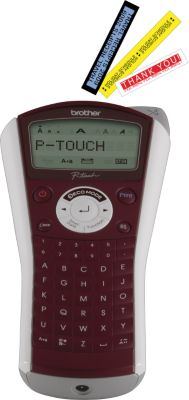 PT-1090
P-Touch PT-90: The PT-90 has a sleek design and includes three interchangeable faceplates to customize the labeler in a fun and decorative way. With eight Deco Mode formats, it can be used for creative or organizational projects in the home or at school. The PT-90 will be available at a variety of retailers starting November '09, with an estimated street price of $29.99*.
P-Touch PT-1090: This family-friendly handheld labeler is easy for everyone to use and includes 12 Deco Mode formats to create great labels. It also has a cable labeling feature to easily label wires and cables; and a time & date feature for labeling food containers, smoke detectors and other items around the home. The PT-1090 will be available at a variety of retailers starting November '09, with an estimated street price of $34.99*.
P-Touch PT-1290: This labeler is the most advanced model in the new Simply Stylish product series. It includes 15 Deco Mode formats that print extra-stylish labels, but also has two professional fonts appropriate for home office labeling. It also has a memory, so you can store up to 9 of your favorite labels. The PT-1290 is available at a variety of retailers and has an estimated street price of $39.99*.
The P-Touch Simply Stylish labelers can be used in a variety ways, and make great gifts for family, friends and business associates. They're perfect for adding a personal touch when crafting gifts such as picture frames or ornaments; and can give a distinctive, custom look when identifying electronics, storage containers, sports equipment and more. The PT-1090 and PT-1290 use laminated tape which is perfect for both indoor and outdoor use and won't fade over time. They are even safe to use in the dishwasher or microwave. You can label virtually anything, from food containers to gardening tools and more.
** New color tapes only available for PT-1090 and PT-1290.
* Estimated Street Price, prices may vary.