The new T50p headphones by Heilbronn (Germany)-based audio specialist beyerdynamic utilize Tesla technology, bundled with a range of features to improve the sound and increase the efficiency of the headphones. Put simply, the magnetic 'drive' of Tesla headphones provides double the performance of conventional models, which is an increase in efficiency that the manufacturers of modern electrical vehicles can only dream about.
The Tesla technology was first implemented at the end of 2009 in the T1 – the high end luxury headphone for the domestic stereo system – and was highly lauded among experts. The timeless elegant design of the hand-built T1 from Heilbronn received the prestigious red dot award for 2010. Now, beyerdynamic is putting progress onto the road: the new T50p ($349) has been specially configured for the reproduction of sound from MP3 players, notebooks and other mobile devices when out and about. This is because the efficient Tesla converters do not just provide exquisitely precise and detail-rich sound: their degree of efficiency also compensates for the low performance of mobile players. With the T50p, devices that often sound too quiet is given a boost in performance that can only be compared with the spontaneous acceleration and overwhelming torque of an electric car.
The T50p is an elegant listening machine. Its satin finish stainless steel and aluminium, together with parts made from high-quality plastic give it an exclusive appearance. Well thought-out details make mobile operation a real pleasure, starting with the tough nylon case and going on through the right angle plug that suits every iPhone to include many other features. The comfortable rotating earcups rest on a spring steel headband that makes a reassuringly locking noise — just like the vehicle door of a top-of-the-range limousine. You can be sure that loose gaps are not a feature of these exceptional "Handmade in Germany" headphones.
The full metal driver has particular acoustic benefits. Because of its solid casing, any vibration of adjacent components is reduced and it is not possible for resonances that distort the sound to be generated. At the same time, the metal housing shields the voice coil from electromagnetic fields like a Faraday cage. The special multi-layer membrane contributes to the absorption of sound-disrupting break-up vibrations at their origin and the powerful magnet system assures high impulse fidelity in reproduction. The result is a more transparent and fresh sound, with powerful bass that is particularly enjoyable when out and about. The closed design of the headphones shields the wearer from excessive ambient noise and prevents the music from being heard from the outside.

T50p technical specifications
Transducer typed: dynamic
Operating principle: closed
Frequency rage: 10 – 23 kHz
Frequency Range: 32 ohm
Nominal SPL: 107 dB
Nominal power handling: 100 mW
Max. Sound pressure level: 127 dB
Sound coupling to the ear: supra aural
Pressure: 2.5 N
Length and type of cable: 1.2 m / from both sides
Connection: 3.5 mm jack plug & adapter 6.35 mm (1/4″) jack plug
Weight without cable: 6.14 oz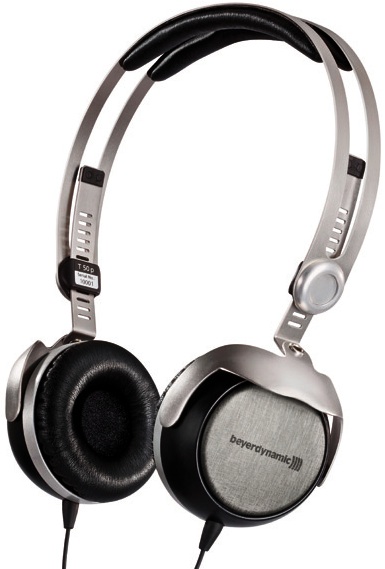 Reviews Around the Web:

beyerdynamic tesla t50p