Keep your iPhone, iPod, BlackBerry, or other USB charging device, charged while in the car Micro Auto Charger's design adds no extra bulk as it sits nearly flush with your dashboard
Belkin's new Micro Auto Charger and Dual Auto Charger charge your iPod or iPhone battery in your car, making it convenient to power up a dead phone or iPod.
Micro Auto Charger is packaged in a compact design and adds no extra bulk to your dashboard. Sitting nearly flush with your dashboard, the Micro Auto Charger still allows room on its lip for you to easily detach it from your dashboard. It also charges at 1 amp — ideal for iPhone devices and certain GPS systems in that it will charge at the device's fullest power.
With its two USB ports, the Dual Auto Charger lets you charge your iPod through one port while charging your cell phone in the other, simultaneously. One quick-charge port powers at 1 amp for your iPhone, and the second port charges at 500 milliamps, which will support iPod devices and cell phones such as BlackBerry phones.
AVAILABILITY
Dual Auto Charger — Currently available
Micro Auto Charger — Available in early May 2009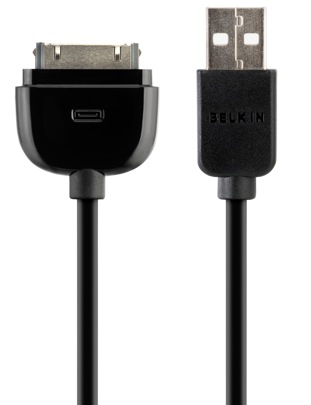 Micro Auto Charger with Charge Sync Cable for iPod and iPhone (F8Z446) – $19.99
Quick-charge port for fastest possible charge
Sits nearly flush with car dashboard
Charge Sync Cable for iPhone and iPod, 3 ft.
Micro Auto Charger (F8Z445) – $14.99
Quick-charge port for fastest possible charge
Sits nearly flush with car dashboard
Dual Auto Charger (F8Z280) – $29.99
Charge-and-sync cable for iPhone and iPod, 3 ft.
Works with Motorola, BlackBerry, and any mobile phone using a mini-USB connection
Features 2 USB ports (one port at 1A and one port at 500mA)
Quick-charge port for fastest possible charge