First to market at Gigabit speeds of up to 1000Mbps*, Belkin's Gigabit Powerline Adapters allow you to quickly transfer large data files as well as stream multiple HD movies online
PC gamers can rely on the stability of Gigabit Powerline, which reduces online gaming latency
Belkin announced an addition to its Powerline Networking line with its new Gigabit Powerline HD Starter Kit adapters, letting you create an ultrafast HD entertainment network through your home's existing electrical wiring. Powered by Gigle Semiconductor's mediaxtream™ chip, Belkin's Gigabit Powerline provides a secure, stable networking signal anywhere in the home–even for areas that are hard to reach by wireless connections.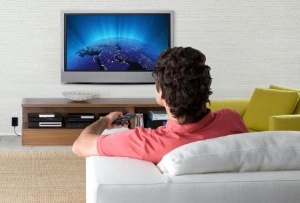 Because of its high Gigabit speeds and consistent connection, Gigabit Powerline reduces online gaming latency and provides large bandwidth, making it ideal for online PC gaming and ultrafast high-quality transmission of multiple video streams. While the current fastest powerline technology runs at 200Mbps, Gigabit Powerline delivers content at 1000Mbps of speed.
Setup of a powerline network is simple with its plug-and-play connectivity: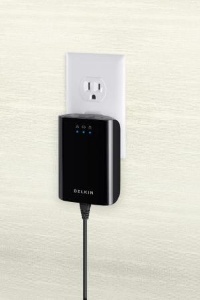 Plug one end of the Adapter into an available wall outlet.
Connect the other end to any device with an available Ethernet port (RJ45), such as a gaming console, set-top box, or computer.
Statistics
Of those people questioned in a 2008 survey by IDC, 84% reported that they are watching more Internet video now compared to a year ago.
The number of videos viewed by US Internet users has grown from approximately 10 billion in 2005 to 100 billion in 2007.
When surveyed about concerns with having a TV connected to the Internet, reliability of Internet connection was named 40% of the time.
Availability
Now available in North America
Availability in Europe: early August
Gigabit Powerline HD Starter Kit (F5D4076) – $149.99
Ideal for ultrafast high-quality transmission of multiple video streams, reducing online gaming latency and quickly transferring large data files
Includes one single-port Adapter for a gaming console, HDTV, or a computer and another single-port Adapter to plug into a router
Stream multiple HD movies and game online
Improves Internet connectivity in remote rooms or places hard to reach with wireless connections
Provides a secure, stable networking signal
Push-button security
Plug-and-play setup
Mesh network:
Adding a third (or more) Belkin Powerline Adapter enables Gigle's xtendnet™ feature that provides increasing networking stability and performance by creating a transparent mesh network.
Compatible with HomePlug AV products
*NOTE: The standard transmission rate–1000Mbps–is the ideal physical data rate. Actual data throughput and distance will be lower, depending on interference, network traffic, building materials, and other conditions.