Bang & Olufsen announces the arrival of the BeoVision 8 40-inch LCD in North America. The new 40-inch version of the acclaimed BeoVision 8 TV combines a technologically advanced home cinema viewing experience with the straightforward elegance and ease of use characteristic of this compact screen concept.
"The new 40-inch version of BeoVision 8 is the fifth video product B&O has launched in less than 12 months. It's a great new addition to our video portfolio," states Zean Nielsen, President of Bang & Olufsen America. "This product is an extremely flexible solution for both wall and floor placement and allows us to offer B&O options to a much wider customer group than ever before."
Optimized performance
The new technologies include double frame rate technology, also known as 240Hz, with motion compensation. As a consequence, the picture refresh rate has been doubled compared to conventional LCD TVs, and the inherent blur of LCD technology has thus been reduced significantly.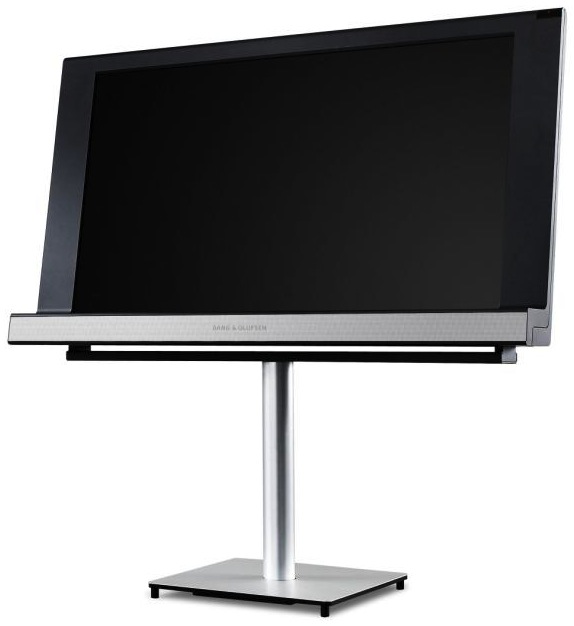 BeoVision 8 40-inch also includes contrast improvement technology — so-called Dynamic Contrast — which optimizes the contrast according to the picture content in each scene. In addition, both BeoLink home integration functionality and extra video connections can be included with a convenient plug-and-play module.
Great sound from small cabinet
The sound performance of BeoVision 8 also sets new standards for compact TVs. The down-facing bass speaker provides a firm foundation for movies and music programs, while the front units are tuned specifically for the reproduction of human speech. The overall sound is extremely natural and clearly audible, giving the sense that voices are coming directly out of the screen.
Designer David Lewis explains, "What we did was move the sound forward and up, designing the TV like a proper stage with an orchestra pit. This ensures the synergy between performance and design expected of Bang & Olufsen."
Flexible solution
BeoVision 8 from Bang & Olufsen offers maximum flexibility as this compact television can easily be moved around and placed high or low. The retractable feet support BeoVision 8 in a casual setup – either directly on the floor or on a countertop. The elegant stands and wall bracket solutions allow for further placement options according to each customer's preference.
Made for those who are looking for an advanced yet entry-level TV with multiple placement options and fantastic picture and sound performance, BeoVision 8 40-inch offers a radical synthesis of time-honored craftsmanship, technological innovation and easy operation.
BeoVision 8-40 will be available in all Bang & Olufsen retail locations by summer 2010 and includes the Bang & Olufsen three-year international warranty. MSRP $5,400.