Axiom Audio announced the LFR1100 omnidirectional linear field radiating floorstanding loudspeakers designed by Audio Engineer Andrew Welker and Axiom President and Founder, Ian Colquhoun. The LFR1100 tower speaker marks a departure from Axiom's traditional loudspeaker designs. Among the many innovations used in this speaker, it features 11 drivers, front and rear, which are controlled by a total of two stereo DSPs. The sophisticated tailoring of each DSP section provides the incredible depth of soundfield audiophiles crave in a speaker, but with the same neutral tonal balance and pinpoint imaging for which Axiom speakers are renowned.
Traditionally, bipole/dipole designs have been plagued by a persistent problem: the spacious presentation sounds great for a while, but eventually it becomes off-putting because you can't isolate soloists or pinpoint actions. Axiom met this challenge by innovating a way to apply psychoacoustic principals to create speakers that offer the best of both forward radiating and bipole designs. Extensive customization of the frequency response of the rear drivers, working in conjunction with a more subtle customization of the front drivers, creates a seamless soundstage with minimal roll-off at the top end, even at extreme angles away from the sweet spot.
The speaker, with a nominal impedance of 4 ohms front and rear, requires four matched channels of amplification: right front, right rear, left front, and left rear.
Although from the front the shape appears to be the same anti-standing-wave design that characterizes the rest of the Axiom lineup, a closer inspection will reveal that the rear baffle is angled slightly outward, thus designating the channels Right and Left.
The speakers come with a four-channel balanced DSP in its own case which sits between the preamplifier and the amplifiers. It accepts the main right and left channels from the preamplifier and outputs 4 channels, 2 for the right speaker and 2 for the left speaker, to the amplifiers.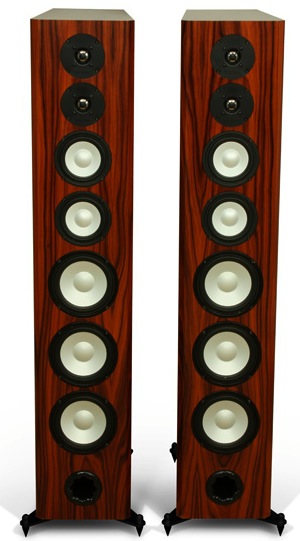 The innovative internal design is matched externally with a three-part angled grille that is available in all the same colors, or with alternating colors for a contemporary luxury look. Optional real wood and custom vinyl finishes are also available for the speakers. The base models come in Boston Cherry or Black Oak. The speakers are just under 4 feet tall (47.5-inches). That's 8-inches taller than the Axiom Audio M80 loudspeakers, in a cabinet of the same width and depth.
Specifications
| | |
| --- | --- |
| Tweeter: | 4 x 1″ |
| Midrange: | 4 x 5.25″ |
| Woofer: | 3 x 6.5″ |
| Dimens. H W D (inches): | 47.5″ x 9.25″ x 17″ |
| Dimens. H W D (mm): | 1207 x 235 x 432 |
Price and Availability
The Axiom Audio LFR1100 Floorstanding Speakers will be available June 15, 2012 for $3,760 at AxiomAudio.com (USD) per pair, including delivery anywhere in Canada or the USA.
Update: Axiom first called these speakers M100, but their name was later changed to LFR1100 (Linear Field Radiator)