Australian based Audiofly will introduce four in-ear headphones for the North American market this Spring 2012. Audiofly assembled a team of designers who were also passionate, gigging musicians. The Audiofly team started from scratch, researching how in-ear headphones were used in the live environment.
"Products available today are often about celebrity, extreme sports or minimalist design. With so much emphasis on style or endorsement, I felt the focus on the music was being lost. I wanted to create highly designed, in-ear headphones that delivered true sound; that accurately conveyed the detail, feeling and meaning the artist envisioned," explained Dave Thompson, founder of Audiofly.
Dave points out, "On stage, its crucial your in-ear headphones reproduce sound as accurately as possible — your performance depends on it. With Audiofly, we literally questioned every driver, magnet, cable and casing to push the quality as far as possible. The team brought the same attention to detail and craftsmanship to the Audiofly range, that artists bring to their music."
AF78 Series
This is Audiofly's premium hybrid in-ear headphone offering. It features a rare combination of a balanced armature device, normally found in professional earpieces, as well as a 9mm custom dynamic driver. The combination is a ground breaking approach to in-ear headphone design, drawing on the strengths of both driver types to produce an amazing separation across the dynamic range and delivering beautiful detail in the high end and lush well-defined response in the lower and mid frequencies. This technology allows listeners to experience music through cutting edge audio technology and unparalleled comfort via the five sets of silicon ear tips included.
The AudioFlex tangle free, braided flat cable is designed for superior strength and abrasion resistance. This cable is created with a designer look, but it's also rugged, made with Kevlar reinforcing in each conductor. The flat cable is braided with Nylon Cordura yarn, for increased strength and abrasion resistance.
Clear-Talk is available on all models. Audiofly has separated the microphone from the mechanics of the button for better voice transmission during conversations.
AF56 Series

This fully-featured set of in-ear headphones offers a 13mm dynamic driver voiced for a solid bass response that doesn't overpower the subtle detail of the midtones or the smooth chimey highs. To prevent surrounding sounds interfering with the music, it includes a noise isolating In-Ear design for up to 23db noise attenuation. This series offers an AudioFlex tangle free, braided round cable for superior strength and abrasion resistance.
AF45 Series

AF33 Series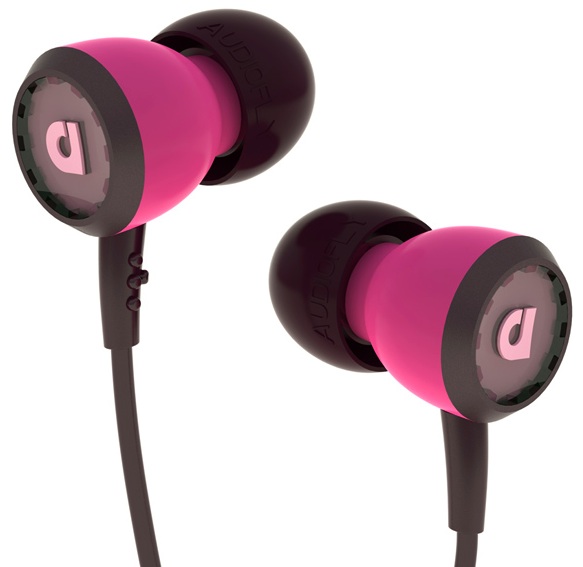 These quality headphones deliver superb sound reproduction at an affordable price. Each model features expertly tuned dynamic drivers in highly designed in-ear headphones, available in a wide selection of sophisticated colors. All Audiofly in-ear headphones are available in select models equipped with or without a microphone and feature a gold plated connection for the fullest sound experience possible.
Features
| | | | | | |
| --- | --- | --- | --- | --- | --- |
| | Balanced Armature | Dynamic Driver | AudioFlex Tangle free cable | Clear-Talk | Noise isolating In-Ear design |
| AF78 | X | 9mm | Flat | X | X |
| AF56 | | 13mm | Round | X | X |
| AF45 | | 11mm | Round | X | X |
| AF33 | | 9mm | Round | X | X |
Price and Availability
These headphones are available in many color options and are expected to be available April 2012.
AF78 with microphone → $209.95
AF78 without microphone → $199.95
AF56 with microphone → $109.95
AF56 without microphone → $99.95
AF45 with microphone → $69.95
AF45 without microphone → $59.95
AF33 with microphone → $39.95
AF33 without microphone → $29.95