High-Performance, Active Noise-Cancelling Headphones
Audio-Technica ATH-ANC25
Audio-Technica just announced the introduction of its ATH-ANC27 over-ear and ATH-ANC25 on-ear QuietPoint active noise-cancelling headphones, which bring the company's acclaimed active noise-cancelling technology to more affordable price points than ever before. (ATH-ANC27, $119.95; ATH-ANC25, $99.95.)
The ATH-ANC27 and ATH-ANC25 provide up to 85% and 80% noise reduction, respectively, utilizing advanced QuietPoint ANC technology that detects environmental noise via miniature built-in microphones, and applies a corresponding sound-cancelling signal. The headphones are engineered to offer outstanding sound quality, comfort and portability.
Both models have a detachable cord, enabling their use as cordless noise-cancelling headphones, and unlike many other noise-cancelling headphones, their audio functions even if their battery runs down, ensuring listeners will never be without their music. The ATH-ANC27 and ATH-ANC25 feature cushioned ear pads and an adjustable headband for long-wearing comfort. They're ideal for use with portable music and DVD players, in-flight entertainment systems, laptop and desktop computers and other devices, and are compatible with the Apple iPod, iPhone™ and iPod touch.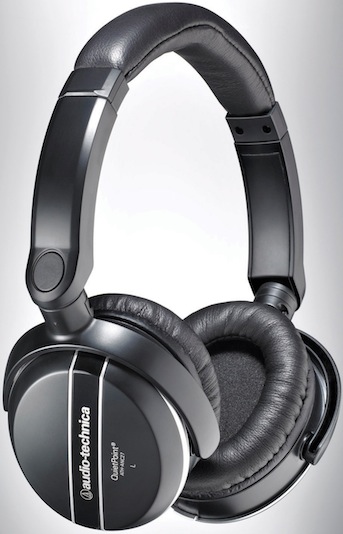 Audio-Technica ATH-ANC27
Both headphones are supplied with a detachable cord, hard-shell travel case (ATH-ANC27) or pouch (ATH-ANC25), 1/4-inch plug adapter, airline adapter and an AAA battery.
The Audio-Technica ATH-ANC27 and ATH-ANC25 QuietPoint active noise-cancelling headphones will be available March 2010 and February 2010, respectively, online or at Audio-Technica authorized retailers.
Both models join the award winning ATH-ANC7b over-ear headphones ($219.95) and ATH-ANC3 in-ear headphones ($169.95) to create a complete lineup of active noise-cancelling headphones for every listener and budget.