Interior Designers and Architects May Now Browse High-end Audio Offerings
Bellingham, WA — November 25, 2008 — StJohn Group, North American distributor for Artcoustic, the leader of superbly engineered, aesthetically designed on-wall loudspeakers & subwoofers, has announced the addition of Artcoustic products to TODL.com, the Trade Only Design Library web site. TODL.com claims that more than 40,000 registered designers, architects and specifiers have password-protected access to its database of residential, hospitality, and contract product and services. TODL.com recently announced it is now the official design library to Contract, HospitalityDesign, and K+BB magazines.
Free to the trade, TODL.com is not a directory, but a trade buyer's online product library with actual specs on hundreds of thousands of residential, contract, hospitality and healthcare products.
This investment by StJohn Group further demonstrates its commitment to adding value in the marketplace by educating the design community about well designed alternative AV product solutions while at the same time, bringing together two important groups of professionals that vitally need each other's talents and services.
The web site contains thousands of stunning images and product descriptions. Artcoustic products are featured in several categories — easily browseable — with links to in situ photos and product shots. There are also links to the online and PDF versions of the 108 page Artcoustic Picture Book and 108 page Artcoustic Art Portfolio. Both coffee table quality guide books are also available in printed form to the design community, authorized Artcoustic dealers, and their clients.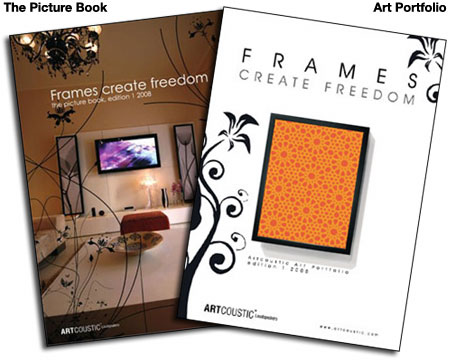 Designers may save products of interest to an unlimited number of project folders and have instant access to contact information for StJohn Group, who will put interested parties in touch with local Artcoustic dealers in their areas who offer design, installation, calibration and post installation services.
Artcoustic dealers may also access the web site to give their designers tours of the products and photography. Dealers must obtain a password before accessing the web site.
About Artcoustic
Founded in 1998, Artcoustic is world renowned for its range of high-end performance wall mounted speakers that feature interchangeable screens that allows one to choose from a vast array of fabrics and decorative prints to suit the interior. The superior product range has been awarded for its groundbreaking designs and is sold worldwide. The speakers are designed by Danish duo Kim Donvig and Patricia Ljungberg. Going back to the roots of Danish loudspeaker design, Artcoustic has transformed the way sound and speakers can enhance the atmosphere and interior.
About StJohn Group
StJohn Group, Inc. is not a typical American distributor. Only representing lines offering exclusive North American distribution opportunity allows the company to closely work with its partners on a holistic approach to brand development. Unlike most U.S. distributors, StJohn Group handles all facets of sales and marketing, including literature and collateral creative and production, advertising creative and buys, media relations, web sites, business development and long range market planning.
Based in Bellingham, WA with a satellite office in Ventura, CA, StJohn Group has seventeen regional representative firms and an active roster of more than 850 specialty A/V dealers.
StJohn Group specializes in products and services for the custom integration (CI) market — both residential and commercial — and represents Artcoustic and Cabasse Loudspeakers, Cineversum, iSky Panels and Screen Excellence in North America and the Caribbean.
==================================================================
==================================================================
Sales: John Caldwell, Director of Sales, 805-647-3779
Administration:
4396 Saddlestone Drive
Bellingham, WA 98226
Tel: 360-756-2205
Fax: 360-647-1087
Relevant Web sites:
http://www.stjohngroup.com/
http://www.screenexcellence.com/
http://teamsync.cebiz.net/
# # #