The All-New Kindle is Smaller, Lighter, and Faster, with 50 Percent Better Contrast
Amazon.com today announced a new generation of Kindle, which will be available in two versions:
$189 – Kindle with 6-inch Screen (Free 3G + Wi-Fi) in Graphite or White
$139 – Kindle with 6-inch Screen (Wi-Fi only) in Graphite
The all-new Kindle has a new electronic-ink screen with 50 percent better contrast than any other e-reader, a new sleek design with a 21 percent smaller body while still keeping the same 6-inch-size reading area, and a 15 percent lighter weight at just 8.7 ounces. The new Kindle also offers 20 percent faster page turns, up to one month of battery life, double the storage to 3,500 books, built-in Wi-Fi, a graphite color option and more-all for only $189, and still with free 3G wireless-no monthly bills or annual contracts.
The new Kindle Wi-Fi is priced lower at $139. It's for readers who don't need the convenience of free 3G wireless.
The all-new Kindle and Kindle Wi-Fi are now available for pre-order and will ship to customers in over 140 countries and 30 territories beginning August 27.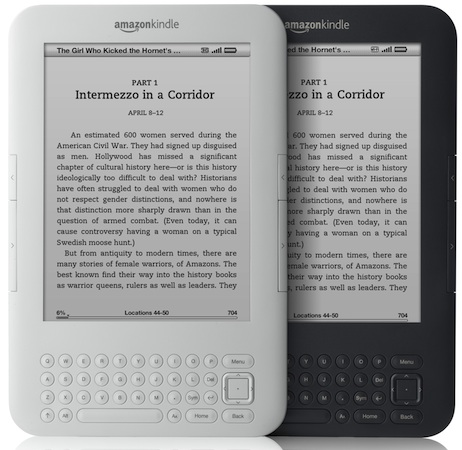 All New, High-Contrast E-Ink Screen, Read in Bright Sunlight: The new Kindle uses Amazon's all-new electronic ink display with 50 percent better contrast for the clearest text and sharpest images. No other e-reader has this screen or this level of contrast. Unlike LCD screens, Kindle's paper-like display looks and reads like real paper, with no glare, even in bright sunlight.
New Proprietary Screen Technology-Faster Page Turns, New and Improved Fonts: Kindle's all-new, high-contrast electronic ink display is further optimized with Amazon's proprietary waveform and font technology to make pages turn faster and fonts sharper. Waveform is a series of electronic pulses that move black and white electronic ink particles to achieve a final gray level for an image or text. Amazon tuned the new Kindle's waveform and controller mechanism to make page turning 20 percent faster. In addition, this waveform tuning combined with new hand-built, custom fonts and font-hinting make words and letters more crisp, clear, and natural-looking. Font hints are instructions, written as code, that control points on a font character's line and improve legibility at small font sizes where few pixels are available. Hinting is a mix of aesthetic judgments and complicated technical strategies. Amazon designed its proprietary font-hinting to optimize specifically for the special characteristics of electronic ink.

New Sleek Design, Lighter Than a Paperback: The new Kindle has a 21 percent smaller body while still keeping the same 6-inch-size reading area. At only 8.7 ounces, the new Kindle is 15 percent lighter and still 1/3 of an inch thin, making it lighter than a paperback and thinner than a magazine. With Kindle you can read comfortably and naturally with just one hand for hours. The new Kindle Wi-Fi is even lighter at just 8.5 ounces.
Double the Storage, Holds 3,500 Books: The new Kindle has double the storage so you can carry up to 3,500 books.
Up To One Month of Battery Life: The new Kindle has up to one month of battery life with wireless off. Keep wireless on and your Kindle will have battery life of up to 10 days.
Free 3G Wireless: Kindle offers free 3G wireless, which means no annual contracts and no monthly fees.
Global Wireless Coverage: Kindle is the only e-reader that lets you travel the globe and still get books in under 60 seconds with wireless coverage in over 100 countries and territories.
New Built-In Wi-Fi: In addition to free 3G wireless, Kindle now has built-in Wi-Fi support. Kindle owners will now be able to connect to Wi-Fi hotspots at home or on the road. Readers who don't need the convenience of free 3G wireless can purchase the new Kindle Wi-Fi for only $139 and download content over Wi-Fi.
Quieter Page Turn Buttons: Quieter page turns means you can read all night without disturbing your partner.
Share Meaningful Passages: Share meaningful passages with friends and family with built-in Twitter and Facebook integration.
Simple to Use: Kindle is ready to use right out of the box – no setup, no software to install, no computer required.
Books in 60 Seconds: With fast, free wireless delivery, you can start reading books on Kindle in less than 60 seconds.
Massive Selection: The Kindle Store has over 630,000 books, including 109 of 111 New York Times Best Sellers, plus audiobooks, periodicals and blogs.
Free, Out-of-Copyright Books: Over 1.8 million free, out-of-copyright, pre-1923 books such as "Pride and Prejudice" are available to read on Kindle.
Low Book Prices: Over 510,000 of the 630,000 books in the Kindle Store are $9.99 or less, including 80 New York Times Best Sellers.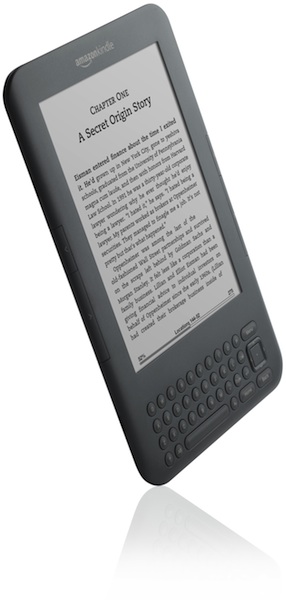 Free Book Samples: First chapters of Kindle books are available to download and read for free before you decide to buy.
Read Everywhere with Whispersync: Kindle books can be read on your Kindle, iPhone, iPad, PC, Mac, and Android-based devices. Amazon's Whispersync technology syncs your place across devices, so you can pick up where you left off.
Worry-Free Archive: Books purchased from the Kindle Store are automatically backed up online in your Kindle library on Amazon where they can be re-downloaded wirelessly for free, anytime.
Improved PDF Reader: The new Kindle uses an improved built-in PDF reader with new dictionary lookup, notes and highlights, and support for password protected PDFs.
New Voice Guide: With Text-to-Speech, Kindle can read out loud to you. New Text-to-Speech enabled menus allow customers to navigate Kindle without having to read menu options. In addition to listening to books aloud, users now have the option of listening to content listings on the home screen, item descriptions, and all menu options.
New Lighted Leather Cover: The all-new Kindle cover features an integrated, retractable reading light that lets you read comfortably anytime, anywhere. The light is a permanent part of the cover, so it's always with you, and hides away into the cover when not in use. The high-quality LED light illuminates Kindle's entire paper-like display, adding brightness without adding glare. Amazon's patent-pending hinge system secures Kindle in place and conducts electricity from Kindle's battery to the reading light, eliminating the need for batteries. The conductive hinges are gold-plated to ensure a reliable electrical connection. Gold is used because of its ability to make good electrical contact even with low force and for its corrosion resistance. The Kindle cover is sold separately for $59 in seven colors.
Pre-order the new Kindle and Kindle Wi-Fi starting today at www.amazon.com/kindle3G and www.amazon.com/kindleWi-Fi.