200-watt computer speaker system combines sophisticated design with accurate, powerful audio reproduction for music, gaming and movies
Altec Lansing, a division of Plantronics Inc. and a market leader in digital audio, today announced the new Expressionist™ Ultra (MX6021), a distinctively styled and powerful three-piece home speaker system for computers, MP3 players and more.
With 200 continuous watts (RMS) delivered in a dramatic design, the Expressionist Ultra is one of Altec Lansing's most powerful computer audio systems. Its boom comes from five digital amplifiers powering five separate drivers for an authentically tuned sonic explosion. Each speaker driver — the 3″ midranges, the 1″ neodymium tweeters and the 6 1/2″ long-throw subwoofer — is individually fired and powered precisely as the source demands it. The result is exceptional audio detail and earth-shaking bass that you can genuinely feel. This uniquely designed 3-piece powerhouse takes music, movies and games to a whole new listening level.
"We take pride in understanding our customers' wants and needs, and in creating products that fit their lifestyle," said Don Milks, Senior Manager of Product Management at Altec Lansing. These days, more people are keeping all of their music and entertainment on their computer. So sound quality is very important to them. They want an audio system that sounds great and plays loud without distorting their favorite artist, movie scene or video game. The Expressionist Ultra speaker system fits the bill beautifully."
The unique design of the Expressionist Ultra breaks rank from the traditional form of other speakers. It is designed to be showcased, rather than hidden away in an office. The contemporary industrial design of the satellites emphasizes visible drivers set into a translucent bezel. The subwoofer features a distinctive trapezoidal design that breaks up standing waves and delivers the deep bass that brings multimedia to life. The Expressionist Ultra speaker system is the perfect complement to today's stylish computers, and with power output and sound quality rivaling many home stereos, it can also be positioned for use with TVs and gaming consoles.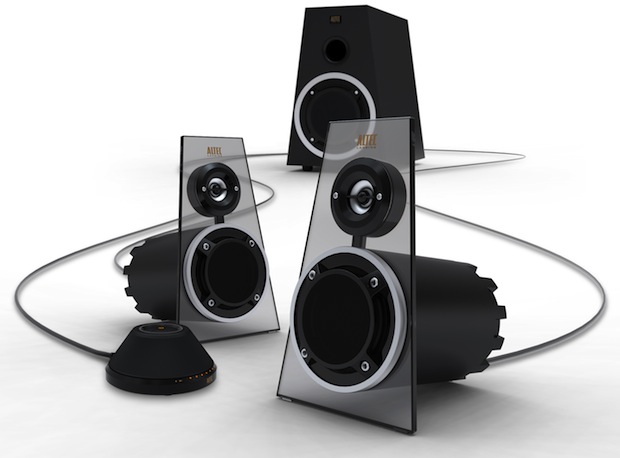 Features:
200 Watt powerhouse — Separate amplifiers for bass, midrange and treble provide exceptionally clean power for listening at any volume.
Full, accurate sound — Each satellite delivers clear, full-spectrum sound from a 3″ midrange driver and a 1″ inch neodymium tweeter.
Seriously deep bass — Low-frequency bass you can feel from the 6 1/2″ front-firing, long-throw woofer.
Fingertip control — Full-function Power, Volume, Treble and Bass controls in a separate controller.
Audio Alignment™ technology — Drivers, enclosure and electronics are balanced for optimum sound.
Connect additional devices — The AUX IN jack and RCA adapter let you connect additional devices like your TV, game console, MP3, DVD and CD player at the same time your computer is connected.
Headphone jack — For private listening
Specifications
Two 3″ mid-range [Intl: 75 mm] and two 1″ [Intl: 25 mm] high-frequency neodymium drivers
6.5″ long-throw woofer [Intl: 165 mm]
Sound Pressure Level (SPL): 106 dB
Total Continuous Power: 200 Watts RMS
Midrange driver: 33 Watts per Channel @ 4 ohms @ 10% THD @ 150 Hz — 2.5 kHz
Tweeter: 33 Watts per Channel @ 4 ohms @ 10% THD @ 2.5 kHz — 20 kHz
Subwoofer: 68 Watts @ 8 ohms @ 10 % THD @ 40 Hz — 180 Hz Single Channel Loaded
System Response: 40 Hz — 20 kHz (-10 dB)
Signal to Noise Ratio @ 1 kHz input:> 75 dB
Dimensions:

Satellite: 5.35″ (W) x 6.18″ (D) x 8.69″ (H)
Satellite: 135.8mm (W) x 156.9mm (D) x 220.6mm (H)
Subwoofer: 10.24″ (W) x 15.06″ (D) x 15.75″ (H)
Subwoofer: 260.0mm (W) x 382.5mm (D) x 400.0mm (H)
Pricing and Availability
The Altec Lansing Expressionist Ultra speaker system (model MX6021) is now available at consumer electronics retailers and alteclansing.com. MSRP is US$199.95.
About Altec Lansing
For more than 70 years Altec Lansing has been viewed among audiophiles as the world's most valuable and innovative audio brand and boasts a unique history of innovation that includes the introduction of first talkie film speakers, the first iPod docking station and the first "Works with iPhone" speaker system. Altec Lansing makes a wide range of audio systems for the home and office; a line of headphones for personal listening; and the popular line of inMotion speaker systems for portable digital players. Altec Lansing, a division of Plantronics, Inc. (NYSE: PLT), is headquartered in Milford, PA.