Alpine has released the SWR-T10 10-inch and SWR-T12 12-inch Type-R Thin subwoofers offering extremely shallow mounting depths with high excursion.
The Type-R Thin subwoofers are not traditional subwoofers just packaged in a shallow form factor. Instead, the Type-R Thin subwoofers have been totally designed from the ground up, redefining how thin subwoofers are engineered and perform. Their unique design earned them a CES Innovations 2010 Design and Engineering Award for the In-Vehicle Audio category.
High Excursion from a Shallow Design
In the past, the challenge in designing thin subwoofers was achieving high excursion despite a very shallow depth that would not allow for the mechanical clearance needed for such performance. The new SWR-T12 and SWR-T10 bring together the best of both worlds. They can handle power and produce industry-leading 15 mm of one-way Xmax and over 50 mm of peak-to-peak excursion just like traditional subwoofers. Yet with mounting depths of just 3.5 inches for the SWR-T12 and 3.25 inches for the SWR-T10, they can still fit into compact spaces for a multitude of installation options.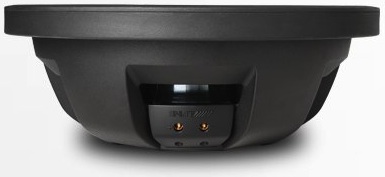 Exclusive Features and Technologies
Several exclusive features are represented in the Type-R Thin subwoofers:
Patent pending Segmented Thermoplastic Elastomer (TPE) Spider: The revolutionary TPE spider design consists of five individual segments which attach to the voice coil at just five points, instead of wrapping around the voice coil as on traditional subwoofers. A co-molded aluminum voice coil collar ensures a reliable, high-strength attachment.
Patent pending Pass-Through Gap Geometry: The spider's five attachment points move through gaps cut into the top plate, allowing the spider to completely pass through the motor structure. The pass-through design gives the cone and voice coil assemblies the mechanical clearance needed for high excursion, despite the subwoofers' shallow form factor.
Ultra-High Strength Neodymium magnet: Packing more than five times the magnetic force as a typical ferrite magnet found in other subwoofers, this 1.5 lb. neodymium magnet is the heart of this powerful design.
Advanced Cone Design: The aluminum cone offers maximum stiffness and low mass. The force transfer assembly behind the aluminum cone forms a strong, stiff, yet lightweight composite structure that is up to the task of pumping out big bass.
As well, key technologies from the traditional Type-R subwoofers have carried over into the new Type-R Thin subwoofers. The oversized 4-inch voice coil houses the neodymium magnet and allows for 600W RMS power handling (at CEA-2031 ratings). Patented components include the dual-sided Compound Radius Curvature (CRC) pole piece which reduces distortion and maximizes efficiency, and the aluminum shorting ring/finned heat sink that uses integrated cooling fins in the shorting sleeve and forced air to cool the voice coil. The patent pending, third generation High-Amplitude Multi-Roll (HAMR) surround works with the patented concealed mount gasket system to maximize excursion levels without sacrificing the cone area.
Small Enclosures and Custom Installation Applications
Both subwoofers are optimized to fit into small enclosures. The SWR-T10 10-inch subwoofer needs a sealed enclosure of just 0.35 cubic feet, or a ported enclosure of 0.6 cubic feet. The SWR-T12 12-inch subwoofer fits into a sealed enclosure of only 0.6 cubic feet, or a ported enclosure of 1 cubic foot.
The small enclosure size creates various possibilities for installation locations beyond the traditional trunk area or hatch corners. Users who want a truly custom application could consider mounting a Type-R Thin subwoofer in a custom door panel, inside or under the glove box, in a custom headliner enclosure, under a seat, or even under a custom center console.
Pricing and Availability