Dell Claims the New M17x is the 'Most-Powerful 17-inch Laptop in Universe'
Hard-core gamers and technology enthusiasts will find much to celebrate with the new Alienware M17x from Dell. The new Alienware M17x is the most powerful 17-inch gaming notebook in the universe and delivers a pulse-pounding, life-like experience.
In support of the launch, Dell unveiled a new "All Powerful" marketing campaign to reach gamers throughout the universe and that it will expand Alienware's presence from six to 35 countries. Just as Dell's Adamo brand represents premium craftsmanship and design, Alienware represents premium performance in the Dell consumer product portfolio and is the new standard-bearer in the broader gaming and technology space.
As the newest member of Dell's premium performance brand, the Alienware M17x features:
Striking design — including anodized aluminum casing, aggressive lines and a unique chassis — that definitely makes a statement in public;
Uncompromised technology that sets the benchmark within the industry and makes it a key pillar within Dell's consumer product portfolio; and
The unique visual ID of the Alienware brand.
Gamers around the world will have access to Alienware's powerhouse system which includes:
New Anodized Aluminum Industrial Design with color options and personalized laser engraved nameplate
Up to Dual 1GB NVIDIA GeForce GTX 280M graphics processing units (GPUs) with SLI™ technology
Configurable with Intel Core™ 2 Extreme Quad-core overclockable Mobile Processor
Up to 8GB DDR3 1333MHz Memory
1TB 7200RPM or 512GB of Solid State Storage Capacity (Raid 0)
Optional Beyond HD resolution with a WUXGA 1200p (1920 x 1200) Edge-to-Edge LCD design
Internal Wireless a/g/draft-n with MIMO (2×2) Technology
Exclusive Alienware Command Center Software Solution
Exclusive designed AlienFX Illuminated Keyboard
NVIDIA GeForce 9400M G1 GPU with HybridPower™ technology
Microsoft Windows Vista (64 bit)
"The Alienware M17x is a gamer's dream and sets the universal standard for 17-inch laptops that enthusiasts worldwide will love," said Michael Tatelman, vice president of sales and marketing for Dell's consumer business. "Alienware's premium performance is critically important to the larger Dell consumer product portfolio, and our new 'All Powerful' branding campaign conveys the brand's technological strength as much as Adamo conveys precision craftsmanship and design."
"With the introduction of the Alienware M17x and our aggressive expansion into new countries and new languages, everyone will be able to experience the most innovative and immersive gaming experience," says Arthur Lewis, general manager of Dell's Gaming Group. "The M17x sets a new benchmark for combining out-of-this-world performance with the industrial design our customers have come to expect."
"Intel Core™ 2 Extreme Quad-core Mobile Processors are the natural next step in gaming laptop performance innovation," says Randy Stude, director Consumer PC Group, Intel Corporation. "With the combination of this forward-thinking technology and Alienware's propensity for cutting-edge performance and design, Intel and Dell are setting a new standard for gaming systems worldwide."
"Dual NVIDIA GeForce GTX 280M GPUs with NVIDIA SLI Technology is the fastest notebook graphics solution available, so the Alienware M17x is out of this world for gaming," says Rene Haas, general manager of notebooks at NVIDIA. "Add the NVIDIA GeForce 9400M GPU designed for battery saving operation into the mix, and the M17x is truly a groundbreaking system with its three NVIDIA GPUs."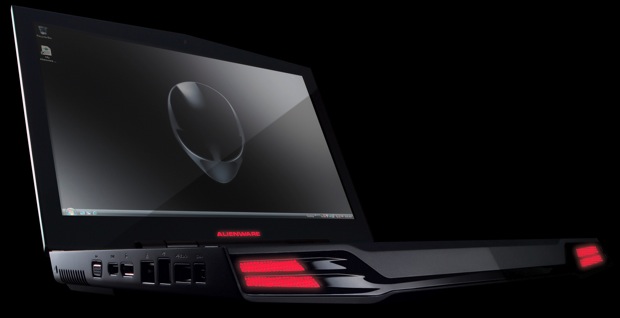 Alienware M17x – Available in color options Space Black or Lunar Silver. MSRP starts at: $1,799