15.6- and 17.3-inch Intel Core i3 and i5 Laptops with Optional Advanced ATI Radeon HD Graphics and Blu-ray
Acer America today offers the new Acer Aspire AS5740 and AS7740 Series of notebook PCs. These mobile powerhouses feature the new Intel Core™ i3 and Core™ i5 processors, widescreen HD displays, first-rate graphics and Acer's acclaimed Gemstone Blue design with prices beginning at just $599.99.
"Featuring extremely fast processors and in select models, discrete ATI Mobility Radeon™ HD graphics and Blu-ray disc drives, these notebooks truly bring digital entertainment to life."
Multi-Core Processors Match Workload
With faster, smarter multi-core technology, the new AS5470 and AS7740 Series fueled by Intel Core™ i3-330M (2.13GHz) and Core™ i5-430M (2.26GHz) processors, are designed to please some of the most demanding computer users. Whether it's composing digital music, editing photos, or playing casual games, the new Aspire AS5740 and AS7740 notebooks enable users to enjoy the best in digital media and be more productive with the ability to multitask quickly and easily. With an intelligent design that accelerates to accommodate demanding tasks, both new series of notebooks are offered in many different configurations that allocate power where it's needed most.
Powerful ATI Radeon™ Graphics Maximize the HD Experience; Accelerate Multitasking
Select models boast ATI Mobility Radeon™ HD 5650 or ATI Mobility Radeon™ HD 5470 graphics, providing performance and portability for entertainment and productivity on the go. The ATI Mobility Radeon™ HD 5650 with 1GB Dedicated VRAM features the most advanced technology that offers a host of advantages from playing the hottest Blu-ray movies and other HD content at full 1080p resolution to accelerating the most demanding applications, such as video editing. It also provides superior multi-monitor support that includes expanding the field of view across up to six displays and exceptional optical clarity for a truly immersive entertainment experience.
The ATI Mobility Radeon HD 5470 with 512MB dedicated memory produces quality images for viewing HD content and playing popular games as well as the speed necessary for accelerating everyday applications. Both discrete graphics leverage ATI Stream technology, which enables the CPU and GPU to work together more efficiently for a significant increase in system performance. With DirectX 11 support, users can play the latest HD games with superior image clarity and striking 3D visual effects for astonishing realism. In addition, both GPUs enable users to dynamically switch between integrated and discrete graphics to optimize the notebook for maximum performance when desired and long battery life while on the go.
Beautiful "Gemstone Blue" Design; 15.6- and 17.3-Inch HD Widescreen Displays
Elegantly crafted, all of the new notebooks are encased in Acer's eye-catching Gemstone Blue design, known for its glossy sapphire blue exterior and smooth rounded edges. A backlit power button and textured NeoWeave palm rest enhance the look and feel. The systems offer a full keyboard and a front access card reader for convenience.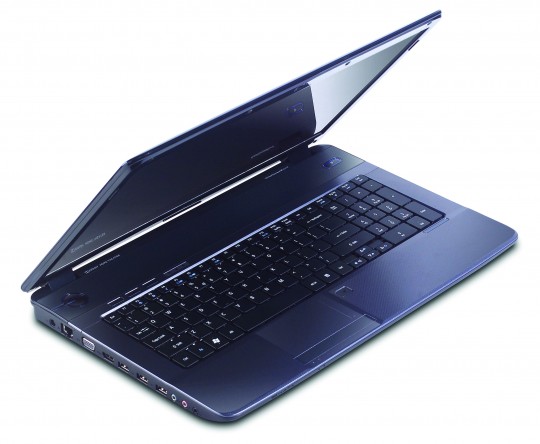 The AS7740 Series boasts a widescreen 17.3-inch Acer CineCrystal LED-backlit TFT LCD with a true cinematic 16:9 aspect ratio. Full HD resolution reveals beautiful picture quality for enjoying entertainment created in the 1080p format. The large display is ideal for those who prefer a bigger screen for viewing movies or playing games as well as being able to scroll less when looking at websites or spreadsheets.
The AS5740 Series comes with a 15.6-inch Acer CineCrystal TFT LCD with a 16:9 aspect ratio and full HD resolution, large enough for mobile savvy customers to easily view web pages, documents, email, digital media and more.
Affording easy, intuitive PC navigation, the new Aspire notebooks have a multi-gesture touchpad. Users can scroll, rotate, zoom in and out and quickly flip through web pages, photos, spreadsheets, long lists of files, music playlists and more by pinching, flicking and swirling their fingers across the touchpad. The touchpad can also be disabled with a one-touch button, eliminating accidental cursor movement with palms and wrists when using an external mouse.
Dolby-Optimized Surround Sound, Blu-ray and More
High quality graphics and Dolby -optimized surround sound enhance movies and games with dynamic, realistic images and audio. Select models come with a Blu-ray disc drive at a very affordable price point. The Blu-ray drive delivers high def music and movie effects with true-to-master precision and enables users to burn CDs and DVDS of their favorite music, photos and videos.
A webcam and digital microphone make it fun and easy to get virtual face time with friends and family via live video streaming and video chat. Both the AS5470 and AS7740 Series notebooks come with integrated media readers and offer up to 650GB hard drives with ample room for storing a vast library of applications, files and digital media.
A wide array of ports including HDMI, enable the laptops to support any PC or TV video format via a single cable, while four USB 2.0 ports connect to the latest peripherals and digital devices. Integrated 802.11a/b/g/Draft-N Wireless and Gigabit Ethernet LAN provide fast access to email, the web and social networks.
The systems are Energy Star qualified and outfitted with Genuine Windows 7 Home Premium, enhancing the user experience with an easier to use interface and more reliability and responsiveness.
Pricing/Configurations/Availability
The Acer Aspire AS5740 and AS7740 Series notebooks will be available for U.S. customers at leading retailers beginning on Jan. 17, 2010. A sample configuration as well as specifications and pricing follow.
Acer Aspire AS5740G-6979 Notebook PC – Prices begin at $749.99
Intel Core i5-430M Processor (2.26GHz, 1066MHz FSB, 3MB L3 Cache)
15.6-Inch HD Widescreen CineCrystal™ LED-Backlit Display (16.9 Aspect Ratio; 1366 x 768 Pixel Resolution)
4GB DDR3 1066Mhz Dual-Channel Memory
Windows 7 Home Premium 64-bit
ATI Mobility Radeon™ HD 5650 with 1GB Dedicated VRAM
500GB SATA Hard Drive
8X DVD-Super Multi Double-Layer Drive
Multi-in-1 Digital Media Card Reader
Acer InviLink™ 802.11b/g/Draft-N+ WI-FI CERTIFIED
10/100/1000 Gigabit Ethernet LAN
Built-in Webcam
Two Built-In Stereo Speakers and Dolby Home Theater Audio Enhancement
True 5.1 Channel Surround Sound Output
Multi-Gesture Touchpad
Four USB 2.0 Ports and HDMI
6-Cell Li-Ion Battery (4400 mAh), up to Four Hours Battery Life
6.16 Pounds
Measures 15.1 (W) x 9.9 (D) x 1.03/1.05 (H) Inches
One Year International Traveler's Warranty
Acer Aspire AS7740-5142 Notebook PC – Prices begin at $749.99
Intel Core i3-330M Processor (2.13GHz, 1066MHz FSB, 3MB L3 Cache)
17.3-Inch HD Widescreen CineCrystal™ LED-Backlit Display (16.9 Aspect Ratio; 1600 x 900 Pixel Resolution)
4GB DDR3 1066Mhz Dual-Channel Memory
Windows 7 Home Premium 64-bit
Blu-ray Drive
Intel Graphics Media Accelerator HD With 128 MB Dedicated System Memory
500GB SATA 2.5 Hard Drive
Multi-in-1 Digital Media Card Reader
Intel Centrino Wireless-N 1000 b/g/n Wi-Fi CERTIFIED Acer Nplify
Dolby Optimized Surround Sound System with Two Built-In Stereo Speakers
Built-in Webcam
Multi-Gesture Touchpad
Four USB 2.0 Ports and HDMI
6-Cell Li-Ion Battery (4400 mAh), up to 3.5 Hours Battery Life
7.05 Pounds
Measures 16.18 (W) x 10.78 (D) x 1.58/1.77 (H) Inches
One-Year International Traveler's Warranty