Microsoft today introduced the customer preview of the new Microsoft Office, designed for the upcoming Windows 8 operating system. The next release includes 2013 versions of Word, Excel, PowerPoint, Outlook, OneNote, Publisher and Access. New features include an integrated cloud service for seamless device syncing, and a redesigned interface for use with touch, stylus, mouse or keyboard across new Windows devices, including tablets.
The new Office responds to touch as naturally as it does to keyboard and mouse. Swipe your finger across the screen or pinch and zoom to read your documents and presentations. Author new content and access features with the touch of a finger, or use a stylus to take notes — even use it as a laser pointer.
New Windows 8 applications include OneNote and Lync represent the first new Windows 8 style applications for Office. These applications are designed to deliver touch-first experiences on a tablet. A new radial menu in OneNote makes it easy to access features with your finger. Keep your notes handy in the cloud and across multiple devices with OneNote. Use what feels most natural to you — take notes with touch, pen or keyboard, or use them together and switch easily back and forth.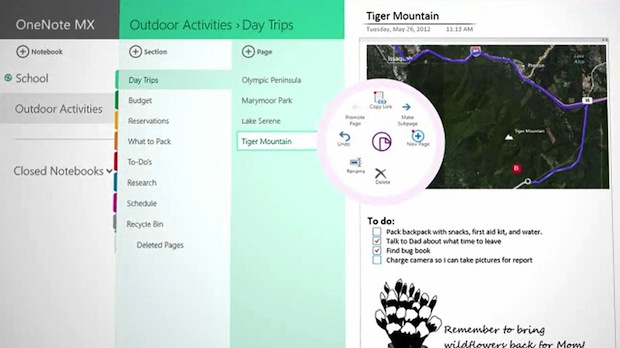 Office saves documents to SkyDrive by default, so your content is always available across your tablet, PC and phone. Your documents are also available offline and sync when you reconnect. Once signed in to Office, your personalized settings, including your most recently used files, templates and even your custom dictionary, roam with you across virtually all of your devices. Office even remembers where you last left off and brings you right back to that spot in a single click.
Yammer delivers a secure, private social network for businesses. Follow people, teams, documents and sites in SharePoint. View and embed pictures, videos and Office content in your activity feeds to stay current and update your colleagues.
The new Office comes with Skype. When you subscribe, you get 60 minutes of Skype world minutes every month. Integrate Skype contacts into Lync and call or instant message anyone on Skype. The People Card includes presence information complete with pictures, status updates, contact information and activity feeds from Facebook and LinkedIn accounts.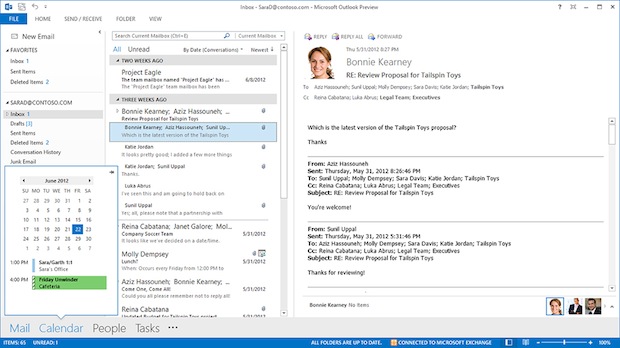 The Read Mode in Word provides a modern and easy-to-navigate reading experience that automatically adjusts for large and small screens. Zoom in and out of content, stream videos within documents, view revision marks and use touch to turn pages.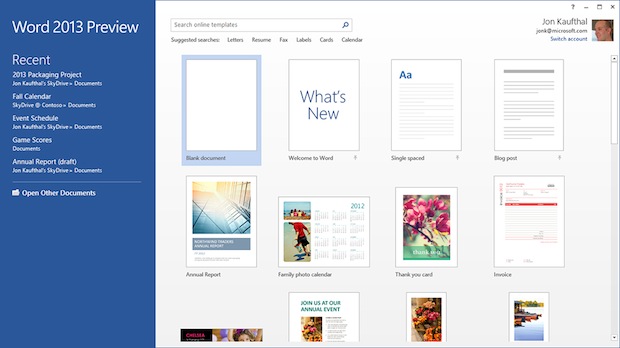 PowerPoint features a new Presenter View that privately shows your current and upcoming slides, presentation time, and speaker notes in a single glance. While presenting, you can zoom, mark up and navigate your slides with touch and stylus. Lync includes multiparty HD video with presentations, shared OneNote notebooks and a virtual whiteboard for collaborative brainstorming.
Pricing & Availability
The new Office will be available in three versions. Pricing to be announced fall 2012:
Office 365 Home Premium — designed for families and consumers. This service also includes an additional 20 GB of SkyDrive storage and 60 minutes of Skype world minutes per month.
Office 365 Small Business Premium — designed for small businesses. This service also includes business-grade email, shared calendars, website tools and HD webconferencing.
Office 365 ProPlus — designed for enterprise customers who want advanced business capabilities and the flexibility to deploy and manage in the cloud.
The customer preview is available at office.com/preview.