Almost all home theater systems include the following speakers:
Front left and right speakers
Center channel speaker
Surround speakers
Subwoofer
These speakers work together to create the surround sound experience of a movie theater in your living room. While there are many brands and models that do a great job reproducing sound, you will want to be sure that the various speakers in your home theater system work well together as a cohesive unit. Check out what each speaker's job is, and some of the things to consider before buying.
Before you start, consider voice-matching. Voice-matching is key to effective home theater sound. If your speakers do not produce a similar tonal quality and share the same harmonic characteristics, the sound will be disjointed when it travels from speaker to speaker. With voice-matched speakers, the sound moves effortlessly around you, creating a seamless surround effect. The best way to ensure voice-matched speakers is to choose speakers from the same "family" of speakers, by the same brand. If you'd like to add center and surround speakers to an existing pair of stereo speakers, and you don't think that series is in production anymore, call Crutchfield or the manufacturer to see whether speakers from a newer series would be tonally similar.
Finally, a note on placement: where you plan to position each speaker in your room might affect the size or type of speaker you choose. You can learn about the basics in our video on speaker placement, or find more detailed guidelines in our speaker placement article.
Front left and right speakers
There's a wide range of speakers to fit
just about any room, including floor-standing
speakers (left), bookshelf speakers (center),
and satellite speakers (right).
In home theater, the front left and right speakers offer a wide soundstage that blends with the video to create a more realistic and exciting movie experience. In addition to reproducing the musical score, front speakers handle the bulk of the special effects, which move back and forth between the two speakers in sync with the images on the screen. Front speakers also broaden the soundstage by reproducing off-screen special effects. Finally, the front left and right speakers in your home theater system also act as the left and right stereo speakers for listening to music.
What to look for:
Speaker type. Floor-standing speakers, bookshelf speakers, and satellite speakers all work fine as front left and right speakers. Floor-standing tower speakers have the most impact and provide great low-frequency response, but they also take up more space. Bookshelf speakers don't reproduce as much bass, but they're more space-efficient and still sound great. Compact wall-mountable satellite speakers must be teamed with a subwoofer, but they're ideal if you want big sound from a small package. Bookshelf and satellite speakers can be placed on shelves or tables, and they can often be mounted on stands or walls.
Voice-matching. Make sure your front left and right speakers are voice-matched to the rest of your speakers, especially your center channel speaker.
Video-shielding. Tube TVs are sensitive to having speakers placed near them. Make sure your front left and right speakers are video-shielded so they won't adversely affect your TV.
Center channel speaker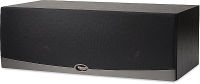 The center channel speaker delivers
more than half of the soundtrack,
including almost all of the dialogue.
(Klipsch RC-62)
The center channel is the unsung hero of the home theater speaker system. When you watch a movie, the center channel delivers more than 50% of the soundtrack, including almost all of the dialogue. Since its purpose is to keep sound anchored to the on-screen action, a good center channel speaker is crucial for a well-balanced home theater system.
What to look for:
Placement. The center speaker typically sits on or just below your TV, so make sure your center channel is an appropriate size for the intended placement. If you have a wall-mounted flat-panel TV, and you won't have a stand on which to place your center channel speaker, you may want to consider a wall-mountable center channel speaker, or an in-wall speaker. It's very important that your center be located directly above or below your screen, since placing it somewhere off to the side can noticeably disrupt the surround sound experience.
Speaker size. Like the front speakers, center channel speakers are available in a variety of sizes. You should consider the other speakers in your system as well as the size of your television set when making a decision. Subwoofer/satellite systems usually use smaller center channel speakers, and these interact just fine with the smaller mains and surrounds. Tower speakers require a larger center channel model to maintain a seamless surround effect.
Voice-matching. When selecting a center channel speaker, it's vital that you settle on one that is voice-matched to your front left and right speakers. Most manufacturers offer center channel speakers that are designed to blend perfectly with their other products.
Video-shielding. Virtually every center channel speaker is shielded, but if you're planning to use a speaker that wasn't designed as a center channel in that spot, make sure it's video-shielded.
Surround speakers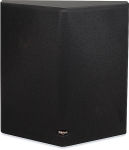 Surround speakers produce
exciting, enveloping directional
effects. (Klipsch RS-52)
Surround speakers produce atmospheric, ambient sounds — such as rain drops, the rustling of leaves, or footsteps crunching on gravel. They also work with your other speakers to deliver spectacular directional effects, like a locomotive rushing by, or a bullet zinging past. They help put you smack dab in the center of the action.
Although a 5.1-channel surround system, with only one pair of surround speakers, is the most common setup, most newer home theater receivers can power more than a single pair of surround speakers — and there are surround formats to match. Today, many people buy one or two additional speakers to use as "back surrounds" in a 6.1- or 7.1-channel system.
What to look for:
Speaker type. Ideally, your surround speakers should have the same performance capability as your front left and right speakers, but that's not always realistic when you consider room size and space. Most people use either bookshelf or satellite speakers (when the system also has a subwoofer) for their surrounds. Both bookshelf and satellite speakers may require stand placement or wall mounting.
Dipole/bipole capability. Some higher-end surround speakers offer a dipole/bipole switch (sometimes referred to as a "Solid/Diffuse" switch). These speakers feature two high-frequency drivers that either fire in phase (bipole) or out of phase (dipole). Dipole/bipole speakers take advantage of reflected sound to create a wide soundfield, and they provide greater speaker placement flexibility.
Placement. Correct surround speaker placement results in a very realistic three-dimensional soundfield; incorrect surround speaker placement can leave people asking, "Are our surrounds even on?" Check our speaker placement guide and consider where you'll put your surrounds and whether they'll need to be stand-mounted, wall-mounted, or even in-wall or in-ceiling models.
Voice-matching. Again, for the most realistic listening experience, it helps if your surround speakers are from the same "family" or series as your main and center channel speakers, and have similar tonal characteristics.
Powered subwoofer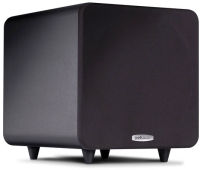 A subwoofer is essential for deep,
rumbling lows. (Polk Audio PSW111)
If you are assembling a home theater, plan on including a powered subwoofer. Many Dolby Digital and DTS soundtracks provide a dedicated channel of deep bass (sometimes known as low frequency effects, or LFE). This bass is what makes the entire soundtrack feel larger, fuller, and more lifelike — it gives special effects like thunder or explosions their window-rattling punch. A subwoofer is also a wonderful way to enrich music listening — it can round out all types of music, from classical to jazz to rock to R&B. Since most speakers can't deliver that level of bass on their own, a subwoofer is needed to ensure that your home theater system delivers crucial low-frequency impact.
What to look for:
Power. If you have a large room (or if you just crave serious bass impact) then you should look for a sub with more watts in the built-in amplifier. Plus, as a general rule, the larger the driver, the deeper the bass — so go for a sub with a big 10″ or 12″ woofer cone (or a multi-woofer sub) for extra bass response.
Placement. Low-frequency sound waves are omni-directional, so you have a great deal of flexibility when it comes to subwoofer placement. If you have a spot in your room picked out, consider the dimensions of the sub's cabinet to make sure it will fit. And remember that placing your sub near a wall, or, even better, in a corner, can increase bass impact noticeably.
Video-shielding. If you are planning to place your subwoofer anywhere near a tube TV, be certain to get a video-shielded sub.

by Julie Govan, Crutchfield.com. All rights reserved. (reprinted with permission, originally posted January 28, 2009)