Loading, please wait...
7.1-channel, 3D Ready THX Ultra2 Plus Home Theater Receiver

140 Watts x 7 Direct Energy HD Amplification Developed with ICEpower®
(20Hz – 20kHz, 8 ohms, 0.08% THD – FTC)
Made for iPhone® Certified & Available iControlAV App
AIR Studios Monitor Certified
HDMI® (V.1.4a with 3D & Audio Return Channel) 6 Inputs (Including 1 Front Input) / 2 Outputs
Marvell® Video Scaler
THX® Ultra2 Plus Processing & Certification
Networking Entertainment (Vtuner Internet Radio Service, Rhapsody and SIRIUS Internet Radio)
PC Browser Control
Suggested Price: $2,200.00
Pionner's flagship A/V receiver for 2010 is the new Pioneer Elite SC-37 A/V Receiver. Its unique features include Home Media Gallery, which adds an easy way to access photos and music files from a networked host computer as well as SIRIUS internet radio and Rhapsody for on-demand access to more than seven million songs.
The SC-37 offers connectivity options for all your latest high-definition home theater components, plus support for up to three zones. DLNA 1.5 support means you can stream your network-connected content to your home theater, and RS-232 support means compatibility with the latest professional home automation systems from Crestron® and Control4®. Furthermore, the SC-37 features an ICEpower® Class D amplifier for unparalleled response accuracy, housed within an audiophile-grade separate component chassis.
The SC-37 is the step-up model from Pioneer's SC-35 A/V receiver, either improving or matching the feature set. The SC-37 notable enhancements are compared below:
SC-37
SC-35
THX® Ultra2 Plus Processing and Certification
THX Select2 Plus Processing and Certification
192 kHz/32-bit DAC (117 dB S/N)
192 kHz/24-bit DAC (111 dB S/N)
192 kHz/24-bit ADC (112 dB S/N)
192 kHz/24-bit ADC (112 dB S/N)
Digital Coaxial (3 Inputs)
Digital Coaxial (2 Inputs)
Freescale and Texas Instruments Aureus 32-bit Digital Engine
Freescale and Texas Instruments Aureus 24-bit Digital Engine
HDMI 1.4a with 3D
(6 Inputs / 2 Outputs Including Front HDMI Input)
HDMI 1.4a with 3D
(6 Inputs / 2 Outputs Including Front HDMI Input)
3-Zone Multi-Zone and Source (A/V)
3-Zone Multi-Zone and Source (A/V)
Main Room / Multi-Zone Illuminated Learning RF Remote Control
Main Room / Multi-Zone Illuminated Learning Remote Control
Sampling Rate Converter — 192 kHz/24-bit All Sources
–
Networking Entertainment:

vTuner
DLNA 1.5
FLAC Decoder
Rhapsody
SIRIUS Internet Radio
Internet Radio
Firmware updates available through network

–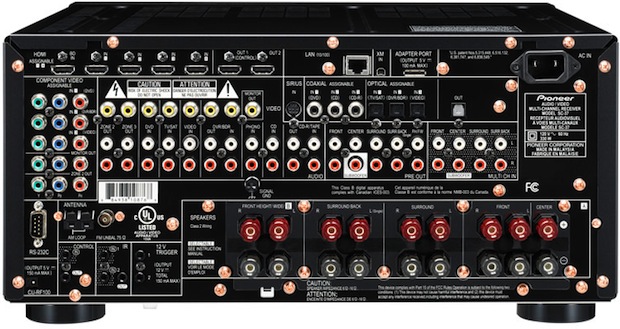 Product Sheet (pdf)
Owner's Manual (pdf)
Where to Buy