7.1-Channel 3D Ready 3-Zone A/V Receiver
140 Watts x 7 Direct Energy HD Amplification Developed with ICEpower®
(20Hz – 20kHz, 8 ohms, 0.08%, THD – FTC)
Made for iPhone® Certified & Available iControlAV App
Direct Energy HD Amplification developed with ICEpower®
AIR Studios Monitor Certified
6 HDMI® Inputs (Including 1 Front Input) / 2 Outputs
(V.1.4a with 3D & Audio Return Channel)
Marvell® Video Scaler
THX® Select2 Plus Processing & Certification
Supports 48-bit Deep Color and x.v. Color
Freescale and Texas Instruments Aureus 24-Bit Digital Engine
3 Zone Multi-zone and Source (Audio & Video)
PC Browser Control
Suggested Price: $1,600.00
The new Pioneer Elite SC-35 7.1-channel A/V receiver features icepower class-d Amplification, Air studios monitor certification, and 3-Zone A/V distribution with GUI.
The SC-35 is the step-up model from the Pioneer Elite VSX-33 A/V receiver. The Pioneer Elite SC-35 adds more power and offers even greater multi-zone/source capabilities. It has the first and only THX Ultra2 Plus and Select 2 Plus-certified Class D multi-channel amplifiers. ICE-Power's direct energy amplifier design yields quick-response dynamic output that's incredibly stable during multi-channel performance, all while remaining energy-efficient and cooler-running
The SC-35 has also benefited from Pioneer's collaboration with the famous AIR Studios in London, where it was evaluated and modified at a prototype level to meet the very strict standards set forth by studio engineers. The trained ears at AIR Studios know first-hand what goes into an artist's craft and their objective is perfectly in-line with that of Pioneer: to accurately reproduce in the home theater what the artist originally created in the studio.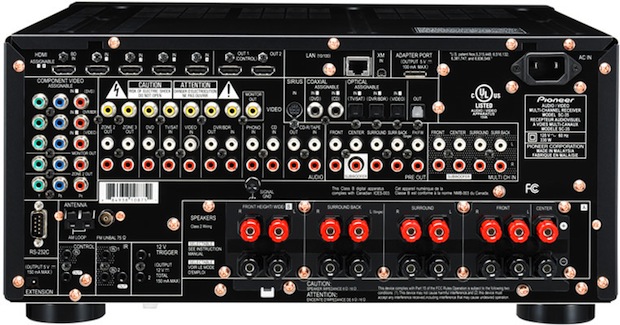 Other features include:
On-Screen Display (Independent On-Screen Display for Zone 2 and 3)
3-Zone Multi-Zone and Source (A/V)
Component Video Zone 2
New Media Zone out for iPhone, Internet Radio, USB (Zone 2/3)
Internet Radio Station Input via USB-connected Keyboard
Versatile 9.1 Speaker Configuration
Assignable Surround Back Speaker — Bi-Amp, Speaker B or Zone 2