Loading, please wait...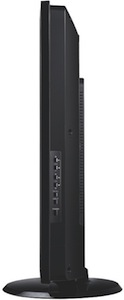 Hitachi America, Ltd.'s Digital Media Division just announced its 2010 line of LCD HDTVs, which includes the L32A404 Alpha Series 32-inch 720p LCD HDTV. The L32A404 will be available in October for a MSRP of $449.
Hitachi's Alpha Series offers versatile connectivity with 7 high definition inputs, including 4 HDMI® pure digital inputs for a brilliant picture. Additionally, each Alpha Series model is ENERGY STAR® 4.1 qualified. Consumers can conveniently display PC photos and videos with the high definition RGB input and enjoy the flexibility of the swivel stand to optimize the viewing angle. To provide the most natural sound, the Alpha series features CONEQ technology to optimize each individual speaker driver for musically accurate sound. The Alpha series will be available in the 32-inch screen size (720p) with panel speed of 60Hz. See spec sheet (PDF: 1MB).
The entire Hitachi 2010 flat panel LCD HDTV line will be released as follows:
Where to Buy